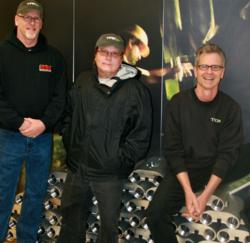 Alameda, CA (PRWEB) March 02, 2013
TRIC Tools, Inc. (Booth 1113) is participating in the annual National Association of Trenchless Technology (NASTT) No Dig Show in Sacramento, CA, March 4th through March 7th. The Show will be held at the Sacramento Convention Center at 1400 J Street, Sacramento, CA 95814. Gregg Abbott, Director of Sales; Bob Grenier, Municipal Sales Director and Michael Lien, Operations Director will be in Sacramento representing the TRIC Technology.
TRIC will showcase its "historic" new 20 and 30 ton Pipe Bursting units and its current Municipal 50 will also be on display. TRIC is excited as this is the 1st show No Dig Show where they have are members of NASTT. In addition, two of TRIC's more successful clients in the Sacramento area will also have booths at the No Dig Show. The Trenchless Company (Booth 1024) and Affordable Trenchless & Pipelining (Booth 420) will be on hand to describe their Trenchless Services. TRIC is proud of both of these companies success with our equipment and hope to see more of our users take a role in industry events.
These Pipe Bursting units combine a compact size and harnesses enough power to burst 4" & 6" laterals in an attractive package. TRIC has led the way in providing Lateral Pipe Bursting equipment for contractors since 1998.
TRIC invented and patented the first practical Lateral Pipe Bursting System while simultaneously gaining national approval of HDPE pipe for its use, thus opening the market for trenchless home sewer replacement in America. TRIC has since added municipal cable pulling systems to its arsenal, always employing their formula of modular portability, including pneumatic and steel splitting heads designed to replace various pipe sizes from 1/2" to 12" diameter.
For more information about Trenchless Pipe Bursting equipment or the Trenchless Industry in general - please call 888-883-8742 or visit TRIC's website at: http://www.trictrenchless.com to see how they can answer any of these questions for you. Get your Trenchless Sewer and Water Replacement service off on the right foot, one lateral at a time.