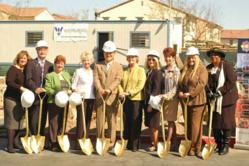 More than 12 million homeowners in the United States spend more than 50% of their income on housing alone...Doria is a great example of how all of us together can make a really big difference for families.
Irvine, CA (PRWEB) March 02, 2013
Jamboree Housing Corporation, one of California's leading community development organizations specializing in affordable housing, broke ground today on the second phase of Doria Apartment Homes in Irvine. Designed for families who earn 30% to 60% of area median income (AMI), the second phase of Doria Apartment Homes encompasses 74 apartments and is Jamboree's second workforce housing development in partnership with the Irvine Community Land Trust.
Doria's first phase has 60 apartments and was completed in late 2011. This was the first rental property to be developed and completed by Jamboree in joint venture with the Irvine Community Land Trust, the only land trust established by a cooperative municipality in Southern California. Phase I was also the first of Jamboree's family-oriented properties to include 10 homes for residents with special needs. Continuing in that tradition, Phase II includes 10 homes that will be set-aside for residents who receive services through the Mental Health Services Act (MHSA), administered by the County of Orange.
"In the 16 months since the opening of Phase I, Doria has received local, state and national attention with industry awards for creativity in affordable housing design as well as for offering a quality home environment for residents with special needs who can now thrive alongside their neighbors," said Laura Archuleta, president of Jamboree. "These are folks already living in our community, and the availability of permanent, supportive housing has been critical to providing a stable lifestyle for them."
The City of Irvine shares in Jamboree's enthusiasm for Doria. "We greatly value having partners work with us to make our city and county a more affordable place to live," said Dr. Stephen Choi, City of Irvine mayor. "Today's groundbreaking is another step in our ongoing effort to create a vibrant, inclusive, sustainable and healthy community." In fact, public/private collaboration with partners such as Jamboree is why Irvine boasts one of the highest ratios of affordable housing units to market-rate housing in Orange County, according to the Orange County Business Council's 2012 Workforce Housing Scorecard.
According to Mary Ann Gaido, president and chair of Irvine Community Land Trust, the completion of Doria Phase II is a strategic next step in realizing the land trust's goal to provide 5,000 new units of permanent affordable housing in the City by 2025.
In addition, the County continues its goal to integrate special needs housing in both phases at Doria, made possible for Phase II in part by the $1.1 million in Mental Health Services Act (MHSA) funding and the commitment of 10 Project-Based Housing Choice Vouchers from the Orange County Housing Authority.
Doria Phase II is the third affordable housing project in Orange County to incorporate State MHSA funding towards the County's goal of creating 185 homes for special needs residents; 19% of these homes have been developed by Jamboree.
Ray Brewer, Field Office Director for the U.S. Department of Housing & Urban Development(HUD), further underscored the national need for affordable housing. "More than 12 million homeowners in the United States spend more than 50% of their income on housing alone." He noted, "Individually, each of us makes a small difference. But Doria is a great example of how all of us together can make a really big difference for families."
Located at 1000 Crested Bird, a quarter mile from both the Woodbury Town Center and "The Commons," Doria Apartment Homes is an integral part of the Stonegate planned community being developed by the Irvine Company in Northern Irvine. When completed in November 2013, the development will encompass a total of 134 apartment homes. Residents will have ample space to gather in the existing 3,000-square-foot Doria community center that features both large and small meeting areas, management offices, a kitchen, computer lab, tot lot, and pool.
In Jamboree's ongoing commitment to sustainability, Doria's Phase II is designed to achieve a LEED (Leadership in Energy & Environmental Design) certified Silver rating. This lowers energy consumption, provides a cost-saving benefit, and promotes the health of residents. Each Doria home is equipped with an ENERGY STAR refrigerator, dishwasher, microwave and stove, and the property exceeds California's Title 24 energy efficiency standards by approximately 15%.
Resident services will be provided onsite by Jamboree's Resident Services Group. Offered at more than 38 of its properties, Jamboree's onsite resident services coordinator will provide services tailored to the specific needs of Doria residents that foster learning, health, and community building to enrich their quality of life. The inclusion of fully funded, ongoing supportive services will enable residents with special needs to live in permanent housing. The Orange County Healthcare Agency will assist residents with 24/7 support of daily living activities, job placement assistance, and links to other supportive and independent living services.
KTGY Group, Inc. created Doria's architectural design. MJS Design Group designed the landscape architecture. Wermers Multi-Family Corporation is serving as the General Contractor.
About Jamboree: Founded in 1990, Irvine, CA-headquartered Jamboree Housing Corporation is an award-winning, nonprofit community development company that develops, acquires, renovates and manages permanently affordable rental and ownership housing throughout California for working families, seniors and people with special needs. HOMES, Inc. and Housing with HEART are 501(c)(3) organizations and comprise Jamboree's Resident Services Group. A leading nonprofit developer, Jamboree is committed to sustaining excellence with high quality affordable housing that is good for the environment, the economy and local communities. It currently has about $88 million in affordable housing projects in its development pipeline and a $1 billion asset portfolio that includes the development of and/or ownership interest in more than 6,700 homes in more than 67 California communities. Currently, Housing with HEART programs and services that foster learning, health and community building are offered at 38 Jamboree communities with designated staff at each location. For more information, go to http://www.jamboreehousing.com.