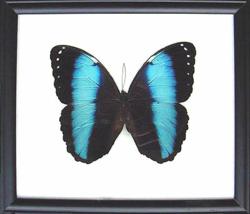 Fair trade is important to Bugs Direct Ltd and we want to fully support the countries where we work.
England, UK (PRWEB UK) 1 March 2013
The entomological specimens available from Bugs Direct Ltd include dried butterflies and moths (Lepidoptera), beetles (Coleoptera), mantids, phasmids, and arachnids. They are available to buy individually, as small displays, or as larger installations and they are frequently ordered by interior designers as well as museums for natural history exhibits who may request custom made cabinets to house hundreds of specimens together with scientific data. Bugs Direct Ltd is particularly well known for its double glass see-through frames which are equally attractive hung on the wall or free-standing as they give the illusion that the specimen is suspended mid-air. Double-glass wooden frames and traditional cotton-mounted frames are available in a variety of complementary colours.
A company spokesperson for Bugs Direct Ltd explained: "We are delighted with our new website as it enables us to showcase how our beautifully crafted frames complement the specimens so well, especially as many of our butterflies and beetles are sourced from exotic locations. It is important to us that we support the people who are indigenous to these countries and work to a strict code of ethics both in terms of wildlife conservation and the use of sustainable materials in the manufacture of our products. Fair trade is important to Bugs Direct Ltd and we want to fully support the countries where we work."
During its twenty years' experience in the insect supply business, Bugs Direct Ltd has built up a diverse portfolio of contacts around the world. The company works with butterfly farms and breeders throughout Asia, Africa and South America to source new species and introduce them to captive breeding projects. In conjunction with the framed specimens, the company also sources and supplies insects and bugs for film producers, artists and fashion designers as well as private collectors, education institutions and wildlife parks. Edible bugs and insects are also supplied by Bugs Direct Ltd and can be purchased direct at: http://www.edibleunique.com
It may not always be possible to list online every entomological specimen currently available due to the large variety held in stock; customers who are looking for specific specimens or who require a custom-made display are encouraged to contact the company's sales advisors. Details can be found at: http://www.bugsdirect.com