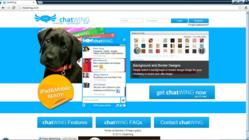 San Francisco, CA (PRWEB) March 29, 2013
Communication is an important part of today's progress. Because of the World Wide Web information exchange has been accelerated and has diminished the effects of time and distance. Since everyone is always on the go, Chatwing created a chat widget that is highly customizable, flexible in terms of communication mode and can accommodate hundreds of chatters at the same time. This dynamic chatbox is made compatible with any android or smart phone.
Active web surfers can now ensure that they can still be well-informed and connected with their web visitors even when they are not in front of their computers. Chatwing dev team guarantees that the chatbox offers only convenience and communication leverage to anyone who will use it. All processes incorporated in Chatwing chat app is easy to do and understand.
Chatwing team claims that the website chat app is user friendly. Anyone even beginning web users can install the chat tool in their websites or blogs easily. Chatwing compared to other shoutboxes available online offers its users wide variety of management tools that would help them improve their online visibility and recreate their sites.
Customization-wise web surfers can experiment with colors, designs, font styles and sizes until they are satisfied with the appearance of their chat box. The look of the website and everything in it plays a role in engaging web visitors and ensure that they will visit again. Users can choose the form that will best serve their communication requirement. Business objectives especially marketing activities can be done with Chatwing's regular chat tool or pop up window. These two styles can cater thousands of web users simultaneously. For personal purposes like reinforcing private contacts, vanity URL can be handy.
Chatwing chatbox can be accessed by most web surfers as long as they can provide a Facebook, Twitter, Gmail or Yahoo account info. Social network expansion is right at the user's fingertips. This powerful chat software can provide users with full global connectivity anytime, anywhere with just their mobile phones.
About Chatwing.com
Chatwing.com specializes in the new field of website chat. Over years, the Chatwing team has introduced live chat widget for hundreds and thousands of blogs. The Chatwing application bridges people from many parts of the world, creating global synergy through the Internet. The shout box can be installed in just seconds, and it can be used for varying purposes such as leisure and Internet marketing. It also allows a user to customize the size, color, and name of the widget. Chatwing is 100% free for everyone.