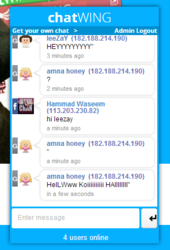 Seattle, WA (PRWEB) March 30, 2013
Administrative managers and assistants are two of the busiest personnel in the office. They are required to multi-task and be proactive in every situation. They must possess tools that can help them acquire efficiency and communication leverage to get things done easily. Chatwing dev team has developed a multi-functional chatbox that is guaranteed user friendly. Chatwing chat software is integrated with various features that help users accomplish online tasks effectively. The improved website chat app is compatible to most websites and blogs.
As a primary communication tool for websites and blogs, Chatwing has a simple interface that lets users accomplish installation within a minute. This saves up time and effort that can be used for other responsibilities at hand. The chat widget can be modified in various ways. Users have many options to create a widget that will blend in with the blog's theme. They can also choose a form that will suit the website. Users can choose from three styles- regular shoutbox, pop-up window and vanity URL.
Chatwing chat software is designed to handle thousands of users without compromising real-time communication. It is also flexible that it can initiate private chats or group discussions among chosen web surfers. Blogs and websites created for admin managers and assistants can facilitate webinars easily. This will result to higher level of interactivity in the site and will surely attract more visitors. Sharing of tips and ideas on how to make work easier and fun can be discussed simultaneously while expanding one's online contacts.
Chatwing can increase a website's accessibility rate in a short period of time. During the customization process, users can limit the log in methods allowed in the website chat app. Web surfers can choose to allow any or all the following users- Facebook, Yahoo, Twitter, Gmail or Chatwing- to access the chat room easily. Interactions will be livelier with more like minds exchanging thoughts and experiences. There are available avatars and emoticons than can be used to make serious discussions lighter.
Chatwing chatbox is dynamic and efficient that while expanding one's global reach, he can also accomplish other tasks such as marketing and promotions. Chatwing team is committed to constantly upgrade the chat widget and offer users with something new each month.
About Chatwing.com
Chatwing.com specializes in the new field of website chat. Over years, the Chatwing team has introduced live chat widget for hundreds and thousands of blogs. The Chatwing application bridges people from many parts of the world, creating global synergy through the Internet. The shout box can be installed in just seconds, and it can be used for varying purposes such as leisure and Internet marketing. It also allows a user to customize the size, color, and name of the widget. Chatwing is 100% free for everyone.