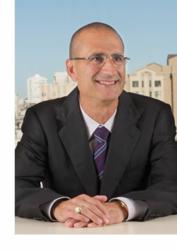 'We are at the beginning phase of leveraging digital health data to improve health delivery and integrating unstructured data is potentially very powerful if you can unlock it.'
London, UK (PRWEB) March 01, 2013
Peter Neupert, former Corporate Vice President of Microsoft Health Solutions Group and co-founder of MSNBC, has joined the Board at Clinithink, a healthcare technology company operating in the US and UK. Neupert's appointment to the Board will take effect in February 2013.
Currently an Operating Partner at Health Evolution Partners, a leading investment firm in the healthcare sector, Neupert's extensive career as a world-class health technology innovator began when he founded drugstore.com in 1998. As one of the first to recognize the potential of B2C e-commerce platforms, drugstore.com went on to become a top online retail store and information site for health and wellness under Neupert's leadership. During his time as Corporate Vice President of Microsoft Health Solutions Group, Neupert led their first venture into healthcare vertical with the aim of improving health outcomes globally through software innovation.
Clinithink is a specialist healthcare technology company that was founded by two former physicians and informatics experts. Clinithink's ground-breaking CLiX technology structures the clinical narrative found within medical records and returns it as structured, usable clinical information. CLiX allows healthcare providers and software solution vendors to extract knowledge from unstructured data and gives them access to the information they need to improve financial management, monitor quality measures and enhance clinical and operational processes. In 2012, Clinithink concluded Series A funding round led by Vanguard Atlantic, a US-based equity firm focused on technology.
Clinithink's technology is being evaluated against other solutions in the market favourably and this has resulted in Clinithink establishing relationships with a number of key customers and partners. Health Language, a leader in medical terminology management software and services and Command Health, medical documentation specialists, are the most recent additions to the growing list of partners in the US market that want to harness the value of CLiX as part of their overall solution.
'A strategy for unstructured data is critical as the market looks to drive value from the transaction processing solutions that have characterised investment in healthcare IT up to now. We are at the beginning phase of leveraging digital health data to improve health delivery and integrating unstructured data is potentially very powerful if you can unlock it. Clinithink is a very exciting company in a great position to drive disruptive innovation in this space. I look forward to serving on the Board and helping the company realize its strategic ambitions.' said Neupert.
CEO of Clinithink, Dr Chris Tackaberry said, 'Peter's distinguished career in IT and business, and particularly within the healthcare technology space, has enabled him to amass a vast breadth and depth of experience in bringing innovative technology to market and driving rapid growth. Any software company in the healthcare sector would jump at the chance to have access to Peter's insight and business acumen. Accordingly, I am absolutely delighted that of the many opportunities no doubt presented to him, Peter has chosen to join the Board of Clinithink. His addition strengthens an already experienced group and will undoubtedly improve our ability to execute on our plans for growth.'