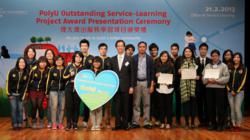 (PRWEB) March 07, 2013
The Hong Kong Polytechnic University (PolyU) believes that service-learning is one of the effective ways to nurture students to become all-round global citizens with a strong sense of social responsibility and a heart to serve. The implementation of the four-year undergraduate curriculum has offered a unique opportunity for furthering service-learning at PolyU by making it a compulsory subject.
Before the curriculum reform, PolyU has been running a non-credit-bearing Community Service Learning Programme with an aim of nurturing students' sense of social awareness through serving the community with their professional knowledge and skills. Since its launch in 2004, more than 8,300 students and staff members have joined hands to serve some 570,000 needy people in Hong Kong, the Chinese mainland and overseas.
In 2011/2012, 40 community service projects were carried out and nine were selected for their outstanding performance. An Award Presentation Ceremony was held on 21 February on the university campus to recognize these exemplary projects. The awards were presented by Ms Marjorie Yang Mun-tak, PolyU Council Chairman, and Professor Timothy W. Tong, PolyU President.
In addition, with the sponsorship of Hang Seng Bank and SAE Magnetics (H.K.) Ltd, two new awards have been introduced to honour sustainable and innovative service-learning projects.
Addressing the ceremony, Professor Tong said, "Within the PolyU community, other than the pursuit of academic excellence, other than research and innovations, we also need to have a heart to serve. We expect our students to link theory with practice and develop a greater sense of ethical, social and national responsibility. Together we build a better community, a better world."
Professor Tong also expressed his heartfelt gratitude to the community partners who worked closely with PolyU students and staff in organizing many meaningful service-learning projects. He also called upon support and donations from different sectors of society so that more servicing opportunities could be offered and more new initiatives could be launched by its students and staff in the future.
This year, two community service projects won the Gold awards under the "Course-required" and "Self-initiated" categories respectively. One of the projects was "Cambodia Slum Survey and Digital Story Telling". Working with the volunteers from Cambodia, a team of PolyU students conducted a survey in three slum villages. The data collected are useful in identifying the needs of the villagers. Another team taught children from orphanages and impoverished families how to use softwares for digital storytelling. Children were given the chance to develop their creativity.
Another Gold award went to a 25-day home-stay service project in Indonesia. Jointly organized by Duta Wacana Christian University of Indonesia, Australian National University and PolyU, students joined hands with the local community to identify needs of rural community and strategies to develop the potentials of these villages. The services carried out covered hygiene and health care, tourism development, map production, education and water supply. The project aimed at developing the local village into a tourist village and enhancing the residents' quality of life.
*****
Press contact: Ms Jeice Cheung
Office of Service Learning
Tel: (852) 2766 5597