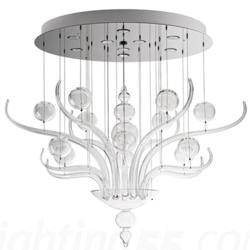 Beautiful Spirito di Venezia Chandelier by Fabbian
Tarpon Springs, Florida (PRWEB) March 06, 2013
Lighting55 was established in 2004 as a division of the Euro lights and Electric Group Incorporation. Since then it has served its customers with not only innovative and productive / contemporary light designs but also with reliable service. All its indoor as well as modern outdoor lighting fixtures are crafted with top rated technology and fitted with highly efficient bulbs. Recently, Lighting55 has started carrying products from an amazing Italian brand named Fabbian. This brand has been recognized in the international lighting industry as an icon on account of its brilliant commercial and domestic lighting fixtures. The brand manufactures all forms of light fittings such as table lamps, suspension lights, floor lamps, ceiling lights, wall sconces, and recessed lights. Some of its most popular product lines embrace the Beluga Collection, the Cubetto range and the Fabbian Spirito di Venezia Chandelier.
The renowned lighting brand Fabbian lighting was set up in 1961 as the designer and manufacturer of all kinds of commercial as well as domestic light fixtures. Today, this brand has emerged as a top runner in the international lighting industry. This tremendous growth can be credited to the years of quality and first rated work that they have delivered. It is also known for employing cutting edge technology in building its products which are fit for every latest need.
The Fabbian Spirito di Venezia Chandelier is one of the most elegant products offered by the Fabbian brand. It has a plated white metal structure that has been polished with the fine chromium finish. The entire fixture interior has been integrated with a robust stainless steel cable network which further supports the illuminating glass decorations. This striking chandelier has been designed by the veteran designer - Gian Paolo Canova.
Apart from these beautiful features, the fixture structure has also been incorporated with halogen bulbs for an increased productivity. The smaller bulb features the 6 X 120V 50W GU10 MR16 halogen lamp while the 9 X 120V 50W GU10 MR16 has been selected as the larger halogen lamp.
The Beluga is one of the most popular and biggest collections by the Fabbian Illuminazione. This exclusive range embraces a wide spectrum of lighting fittings such as wall sconces, table lamps, floor lamps, ceiling lights, pendant lights and other distinctive light structures. Most of these lighting fixtures come in a variety of sophisticated designs and colors. Almost every product under the Beluga collection has been provided with a high quality glass structure which is further finished with chromium polish. In addition, these lighting items have also been incorporated with the top rated energy efficient bulbs.
Another spectacular collection by the Fabbian Illuminazione features the Cubetto range which is also by Fabbian which focuses mainly on the liner pendant lights, the wall sconces and the ceiling lights. All the products under this range have been based on unique and stylish designing. Their structures have been carved out of distinctive metals and polished with fine and seamless finishes. The incorporated bulbs are highly functional and energy efficient.
Paula Salmon from Brazil expressed her experience with the Fabbian products, "I wanted elegant and sophisticated lighting solutions for my recent hotel project. When I came across the Fabbian designs, I was completely fascinated by them. All its chandeliers and the ceiling lights not only look beautiful but are also equally productive. I am completely satisfied with my purchase."