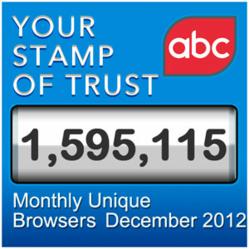 2012 was a phenomenal year for ePHOTOzine. We strengthened the editorial team and focused on bigger and better reviews
Worksop, Notts (PRWEB UK) 1 March 2013
ePHOTOzine's traffic has smashed through the ground - ABC logo breaking one million mark with the latest ABC audit confirming that the site now has a whopping 1,595,115 monthly unique visitors! This is an outstanding achievement, showing a huge 66% ABC traffic increase since the 2011 audit.
On top of this, the award-winning website has also seen a 44% increase in monthly unique impressions, which are up by almost 2 million, from 5,828,881 to 7,808,880.
ePHOTOzine continues to be a hub for all things photography, covering all the latest news, reviews and features, as well as having a dedicated member community that keep the site thriving.
Tracey Jennings, Managing Director, said: "We are obviously absolutely delighted with this latest ABC, giving testament to how hard the ePHOTOzine team work and also recognising the strength of our wonderful community.
"13 years ago we dreamed of one day reaching the 'magic million mark' and we have now far surpassed it! In a time where nearly all paper-based photographic magazine ABCs are in decline, we've achieved amazing traffic increases of 37% in 2011 and a further 66% to December 2012. This just shows we continue going from strength to strength and that our members and clients can be totally confident in our site. Thanks to everyone involved in this latest success and here's to the next 13 years and beyond."
ePHOTOzine reaches out to photographers of all levels, be it a DSLR user or someone just learning new skills with a compact, plus our community, which is full of dedicated and passionate photographers, is also here to help.
Peter Bargh, Editorial Director and founder of ePHOTOzine, says the success of the site is down to the variety of its content: "2012 was a phenomenal year for ePHOTOzine. We strengthened the editorial team and focused on bigger and better reviews. And while many websites concentrate on camera reviews, we test and rate everything from accessories such as remote releases to high end pro DSLRs. Visitors come to us for unbiased advice on all things photographic.
"We also increased our Photo Month activity with a new technique or tutorial added every single day of the year. We made some big changes to the gallery by adding a new photo versus mode. It's these changes, along with a constantly developing site framework, that all contribute in helping the site grow significantly in what's been a challenging time for the photographic market."
As well as working hard to bring the latest news, reviews and must-read techniques to the site, the team are constantly thinking of new features that can be added to the site to further enhance the experience of its users. This includes our new photography course that will launch on site during the first half of 2013.
If you'd like to reach out to our 1.6 million photographers, don't delay; contact advertising(at)ephotozine(dot)com to hear about our ABC-celebratory special offers we have running right now.
For more information visit ePHOTOzine.com
About ABC:
ABC is governed by the media industry, for the media industry and is the expert at setting data and process standards across multiple platforms. ABC provides a stamp of trust for media buyers, media owners, publishers and digital traders working in existing and emerging platforms.
ABC was established in the UK in 1931 and is a founder member of the International Federation of ABCs (IFABC). ABC's Digital arm was established in 1996 and was united with ABC under one brand with a new identity and integrated structure in March 2011. ABC works with JICWEBS (Joint Industry Committee for Web Standards) to deliver common international standards for measuring digital reach, engagement and loyalty, as well as creating common standards for good practice throughout the industry.
For further information please visit http://www.abc.org.uk.