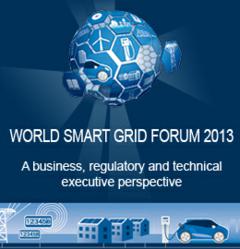 The World Smart Grid Forum will deliver a decision-making canvas that aims to allow Smart Grids to finally move into large scale implementation.
Geneva, Switzerland (PRWEB UK) 4 March 2013
There is an urgent need for the development of robust, low-carbon energy systems to address global issues of long-term energy security. Despite this unanimous target, Smart Grids are still failing to move beyond the project stage.
Literally hundreds of mostly commercial and technical Smart Grid events are trying to get a handle on this complex issue. However, counter-intuitively the complexity and difficulty of Smart Grids doesn't come from technology, which is mostly readily available, but rather involves the need for intricate human decision-making.
Three neutral, global partners with a strong interest and know-how in Smart Grids, but without commercial motivation , have now joined forces for the first World Smart Grid Forum (Berlin, 24-25 September 2013).
The IEC (International Electrotechnical Commission), the world's leading standards body in electrotechnology, the SGCC (State Grid Corporation of China) the world's biggest power utility, and VDE, one of the largest technical and scientific associations in Europe, have combined their efforts to deliver a decision-making canvas that aims to allow Smart Grids to finally move into large scale implementation.
Smart Grids must progress from discussion to action if energy security is to be assured. For Smart Grids, sustainable communities, and Smart Cities to become a reality all key stakeholders need to be represented and there needs to be the impetus to move this forward as a reality.
Highest level key decision makers representing all stakeholders, from regulators/policy makers, energy producers, power utilities, to manufacturers, will join forces to analyze Smart Grid initiatives to crystalize factors for success or failure.
The World Smart Grid Forum is co-chaired by Prof. Dr.-Ing. Klaus Wucherer, President of the International Electrotechnical Commission (IEC), Liu Zhenya, President of State Grid Corporation of China (SGCC), and Dr.-Ing. Joachim Schneider, President of VDE. The three partner organizations have a truly global scope and are ideally placed to stimulate concrete Smart Grid development.
The Forum offers two parallel tracks that provide participants with a highly condensed knowledge base that can serve as the foundation for reality-based decision-making. Track A will explore the interactions that are needed to support a low-carbon energy supply.
Track B will define what is needed to develop smart and sustainable communities and cities. Beyond technology and design: identify the gaps that need to be filled to bridge from vision to reality. Interactive sessions will involve all conference participants to further refine hot topics, burning questions, reservations and expectations.