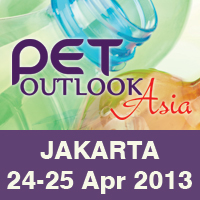 It is timely and relevant in lieu of Indonesia's booming consumer expansion and accelerated PET packaging conversion.
Jakarta, Indonesia (PRWEB) March 06, 2013
Regional packaging companies are looking inwards at Asia's extensive food and beverage markets amidst global uncertainty.
Previously held in Bangkok, Singapore, Shanghai and Ho Chi Minh City, CMT's PET Outlook Asia comes to Jakarta. It is timely and relevant in lieu of Indonesia's booming consumer expansion and accelerated PET packaging conversion.
Chairman of PCI PET Packaging Resin & Recycling, Mr. Andrew Noone addresses the global capacity crisis affecting the PET business in Asia/Pacific region, going into issues such as unsustainable capacity growth in Asia, trade dynamic changes, margin squeeze and impact on recycling. Mr. Mazlan Razak, Senior Consultant at Nexant focuses on the vital Asian polyester intermediates.
As expected, there is an in-depth focus on Indonesia's market segments - F&B, RTD tea and functional drinks, as well as analysis of where Indonesia's economy is heading by Ms. Destry Damayanti, Chief Economist of PT. Bank Mandiri. The presentation by Mr. Benny Rachmantio, R&D Director of powerhouse PT. Tirta Investama (Danone Aqua Group) shares insights on the future of Indonesia's market and packaging for water and beverages.
Mr. Ariel Dewanto, GM of PT. Indo Tirta Abadi elaborates on Indonesia's PET beverage packaging trends and growth from a converter's perspective as well, and Mr. Tatsuya Murase of Suntory's Packaging Material Development Team share insights on branded company's local packaging development strategy.
Not to be missed are the sessions on emerging Myanmar consumer market, F&B sector and impact on packaging demand. China's soft drinks and beverage market is also covered. TNS Indochina's Regional Managing Director, Mr. Ralf Matthaes and Senior Advisor at Beijing Orient Agribusiness Consultants (BOABC), Mr. Martin Lu are sharing insights on the respective country's market dynamics and strategy.
New and vital innovation sessions by leading brands; these sessions alone are worth investing in the conference:

Australia's near virgin quality rPET – VISY rPLASTICS, Mr. Robert Dvorak, Technical Business Development Manager
Bangladesh's bottle to bottle recycling plant – Akij Group, Mr. PB Barua, Senior GM
India's sustainability trends – Himalayan Group of Industries, Mr. Suresh Singhal, Managing Director
Sessions on Technology include:

Single-stage blow molding simulation & container performance prediction – Plastic Technologies, Mr. Sumit Mukherjee, Director CAE and Simulation
PET jars for hotfill & pasteurization – Nissei ASB Machine, Mr. Paul Atkin, Team Leader of Sales Division
Visit http://www.cmtevents.com/aboutevent.aspx?ev=130421&pu=221000& for details; contact Ms. Hafizah at 6346 9218 for enquiries.