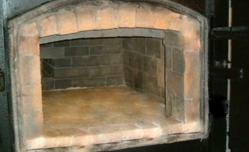 'Always imagine the owner of the pet is standing behind you
East Grinstead, West Sussex (PRWEB UK) 4 March 2013
Stephen Mayles, owner of Chestnut Lodge Pet Crematorium in East Grinstead, has issued advice to all pet owners about the checks they should makes when choosing a cremation service for their pet.
In the 27 years he has been running a pet cremation service he has spoken to many businesses who have admitted they have to cut costs by piling dead pets into collection vans along with waste material from vets and carrying out mass incinerations rather than a cremation service.
Mr Mayles said: "This is an example of the sort of details that are not given to pet owners because, if they were, then anyone wanting some care and respect for their pet would go elsewhere. Some pet owners may not be concerned about this but it is an important factor for many people and should be explained. People then have the choice of using that service or going elsewhere."
His knowledge that many owners are not currently getting the after-death care for their pets that they would wish has led him to issue a comprehensive report called: "What To Look For In A Pet Cremation Service" which can be read, or downloaded, at his website.
Stephen said: "There are no regulations controlling the way pet cremation services are carried out other than at a very basic disposal level. It is therefore important that people understand how their pet will be treated so they can make sure they are getting the service they want and for which they are paying.
"Although it is a legal requirement under Consumer Protection Regulations for the service to be fully described before people agree to it, this rarely happens and it is often the crematorium or veterinary surgery who decides the level of service. This may be very different to the one the pet owner expects."
His report encourages owners to ask vets and crematoria about each stage of the service from how their pet will be handled, transported, identified and kept prior to cremation, through to how that cremation will be carried out and how the ashes will be recovered without any being lost.
The report also provides a stark warning about how pets may be transported, saying: "BEWARE: Many pet crematoriums will transport many pets piled together in bags, often mixed with other waste bags collected from veterinary surgeries."
Each section of the report is illustrated by examples of how Chestnut Lodge operates. This shows pet owners how a genuine cremation service can be achieved and enables them to make a comparison with descriptions they might be given by pet crematoria companies or veterinary surgeries.
Alongside the website report are 'Four Golden Rules for a Pet Cremation Service' that Mr Mayles would like to see pet crematoria follow and which define the standards he enforces transparently at Chestnut Lodge.
He said: "The first of these golden rules really sums up the way I believe any pet cremation service should be performed: 'Always imagine the owner of the pet is standing behind you and watching your every action. That way you will always carry out the service with care and dignity'."
Stephen is also a Director and founding member of the Association of Private Pet Cemeteries and Crematoria (APPCC) whose members voluntarily observe a strict code of conduct - the only one that clearly define services for the pet owners.
Chestnut Lodge provides genuine individual and communal pet cremations direct to members of the public as well as offering a professional veterinary cremation service to clients of discerning veterinary practices. Chestnut Lodge is approved under the West Sussex County Council 'Buy With Confidence' scheme, managed by the Trading Standards Department.