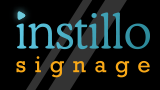 Instillo delivers a reliable and comprehensive digital signage solution with affordable setup and on-going maintenance costs.
Galway, Ireland (PRWEB) March 12, 2013
Instillo Ltd. (http://www.instillo.com) is based in the west of Ireland and supported by Enterprise Ireland. This innovative start-up is driven by its founder's strong desire to provide SMEs with the option of using rich, interactive, and customer-engaging signage solutions at affordable prices. After a mere seven months of intensive engineering, the company is delighted to announce the launch of its cost-effective, fully-managed digital signage solution.
Instillo's native, signage software has been crafted and perfected to run on any Android hardware. Clients can use their own tablets, touchscreens, media player boxes etc. Instillo's Content Management Server (Instillo CMS) is simple, reliable, scalable, and easy to use.
It easily manages 1000's of displays in real-time and enables the creation of layouts with multiple screen regions. Instillo CMS supports multiple media types such as HD video, images, YouTube, streaming videos, RSS etc. Businesses, in retail, finance, hospitality and transport, can select the media which best suits their environment to effectively grab targeted audience attention and influence their perception and/or behaviour. For additional information on Instillo signage solutions, contact the Instillo team by emailing info(at)instillo(dot)com.
Shankar Jayagopi, CEO of Instillo, gave an insight into the merits of quality, Android-based digital signage solutions; "Building a rich, native Android application, from the ground up, has given us the capability to leverage the performance of low-cost hardware." The Instillo development team quickly realised that their solution could offer more than a mere flash and HTML based player software running on Android.
The company recognised that a solution with remote management capabilities would be instrumental in reducing maintenance costs. On a relatively new platform like Android where hardware reliability to run as stand-alone for years, is not yet established, Instillo's Remote Management Server (Instillo RMS) gives administrators comprehensive access to their media players at customers' locations. Administrators can view and control a remote screen via keyboard and mouse. When an issue occurs diagnoses can be made without affecting playback using command line and file system access. Customers can subscribe to health reports and violation notifications sent via email. To check out the extensive list of Instillo RMS' capabilities, view http://www.instillo.com/management.php.
Instillo digital signage solutions transcend traditional signage applications. The organisation's customer-focus ensures delivery of solutions that address customers' current and future needs. This innovative start-up is firmly focused on making a seamless transition into interactive kiosks with touch support. Targeted advertising and customer metrics feature strongly in the future of digital signage and Instillo is eager to add these industry-must-haves to its portfolio. For further information on how Instillo's solutions deliver rich, timely and interactive content to meet the differing needs of customers in various sectors, visit http://www.instillo.com/delivery.php.