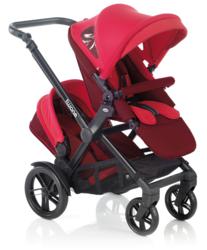 Jané's TwOne's clever design means that it can change from a one-seater to a twin pushchair in a few seconds.
United Kingdom (PRWEB UK) 1 March 2013
The TwOne, Jané's innovative twin pushchair, has been recognised with a Mother & Baby Magazine 2012/13 Award.
The TwOne, which brings to the market for the first time a stylish pram that literally grows with your family, was given the Award for its quality, value and consumer appeal in the Travel Twin/Tandem category.
The innovative twin pushchair has also just been put on Pregnancy & Birth Magazine's March 'must-have list' as one of the best 'multi-tasking buggies'.
The TwOne is the lightest most compact system of its class in the world. It can be used as a single, a double, or a twin buggy, making it a sensible investment for an expanding family and saving future expense.
David McCullough, Director of Johnston Prams and Buggies, the UK and Ireland distributor for Jané, explains the innovative thinking behind the TwOne.
"Many families don't want to have to buy a new pram when number two baby comes along. The TwOne's clever design means that it can change from a one-seater to a twin pushchair in a few seconds. It's a savvy long-term investment as it is designed to grow with your family and works whether you have one child, twins or children of different ages."
He added: "The TwOne is the only travel system of its class in the world that has an intuitive profix system which keeps your baby safe and eliminates the need for awkward fitting kits. It has the widest travel system options including infant car seats, carrycots and lie-flat car seats, and its book-style folding system makes it extremely compact and easy to fit in the boot."
In single mode the TwOne features a large shopping basket and a reversible seat unit means you can have your baby facing you as you walk. Smaller lighter swivel front wheels, with independent suspension, are perfect for getting about on the city streets, and its compact book type folding system makes it easier to carry and store - wherever you decide to take it.
Jané's innovative design is evident in the exceptional TwOne with its handle brake, seat units with three recline positions, strong chassis and removable washable upholstery. This model is also ISOFIX compatible.