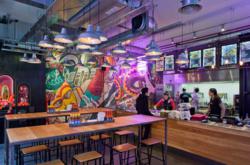 'i-am' also develope a number of Mexican themes and features to further enhance the Chilango brand
London (PRWEB UK) 4 March 2013
The recently opened London Wall and Brushfield Street sites of Mexican restaurant Chilango, mark the latest projects in the continuing collaboration of 'i-am' associates and Chilango's founders Dan Houghton and Eric Partaker. After successfully opening restaurants on Fleet Street, Chancery Lane and Upper Street, Chilango and 'i-am' came together again to extend, develop and expand the increasingly popular Chilango brand. Chilango and the 'i-am' designers have long since dispensed with the idea favoured by many Mexican restaurants of stereotypical sombreros and maracas. Instead they have opted for creating a more unconventional space that has managed to retain a real feel of Mexico while still proving to be a cool, contemporary venue – not to mention making the best burritos in town!
Chilango is fast becoming one of London's Mexican restaurant giants but the mounting success has not made Chilango become generic or boring. The team at 'i-am' associates were keen to introduce original and stylish elements to the new spaces on London Wall and Brushfield Street; the most notable of these perhaps is the graffiti that adorns the walls. Free-style graffiti artists Broken Fingers have incorporated the Chilango brand into their raw style giving Chilango a real vibrancy, energy and street presence. Some things however, have not been changed. Creating delicious food and the preparation of fresh ingredients is a huge part of the Chilango culture. All of the vegetables and salad that are used in a tasty Chilango burrito or salad are on display at the front of house. Customers can see themselves just how fresh the food they are eating really is. Another feature is the integration of Chilango's kitchen into the rest of the space. This was achieved by the graffiti bleeding into the kitchen area, which immediately incorporates the two, giving customers the feeling that they are eating in the middle of a busy Mexican kitchen.
'i-am' also developed a number of other Mexican themes and features to further enhance the Chilango brand. This included collecting props such as wrestling masks, vintage posters, day of the dead items and vintage Mexican mailboxes to create a comment box for Chilango customers to leave feedback in. Kirsty Mills, one of the 'i-am' designers on the project said 'where possible we ordered objects from Mexico such as the Lady Guadalupe to create a more authentic interpretation of street shrines. The mix of objects was inspired by photos of famous Mexican wrestlers posing in their homes with their families and by combining religious, family pieces and odd little items you'd collect on holiday, we created a quirky but authentic space'. Design elements such as the original pieces of graffiti mean that each site has retained a real sense of individuality, but they also all function under the ethos of the wider Chilango brand. The thoughtful and interesting design of the new sites creates a talking point and sets Chilango apart from its competitors. When asked how the new London Wall site was doing after the work by 'i-am' associates, Dan Houghton said 'London Wall is doing great. It's going to be our best performing city site ever'. Chilango, unlike many other Mexican chains has real personality. While being slightly controversial, it combines good food with crazy Mexican music and an amazing atmosphere.
Notes to Editors
'i-am' associates is an independently owned 360° brand experience consultancy with worldwide experience and studios in London, Istanbul and Mumbai. We employ a full time team of 90 creative thinkers and doers, spread between our three studios. We offer our clients a wide range of specialism's including architecture, interior design, branding, web design, brand culture, PR and alternative marketing. These skills are focused on one single goal: To continually improve the customer experience and deliver improved business performance for our clients which span a range of sectors including; airport, banking and financial, food & drink, restaurant & bars, retail, education, estate agents, fashion, historical attractions, online retail, pharmaceutical, postal, telecoms and electrical.
For high res pictures of Chilango, more information on the interior design, branding and customer experience please contact:
Freya Wileman
PR & Marketing Executive
'i-am' associates
Tel: 0207 613 4114
Email: freya(at)i-amonline(dot)com