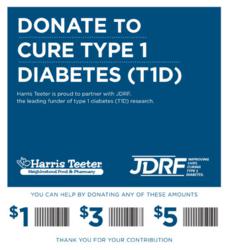 Charlotte, N.C. (PRWEB) March 01, 2013
Today, Harris Teeter launched a donation card campaign to support JDRF, the world's largest charitable funder of research toward curing, treating, and preventing type 1 diabetes (T1D) and its complications.
During the month of March, Harris Teeter customers at every Harris Teeter location will be able to make $1, $3 or $5 donations to JDRF at checkout. Similar community-based donation card campaigns hosted by Harris Teeter have raised more than $500,000 in a given month; the Company is proud to support JDRF during this March campaign and is thankful for both the involvement of its associates and its customers.
"Harris Teeter wants to play a positive role in the communities in which it is located and is proud to host a donation card campaign on behalf of JDRF," said Catherine Becker, communication manager for Harris Teeter. "Our customers are also extremely generous, and our goal during this campaign is to not only raise money for the research programs JDRF funds but to also increase awareness of the nonprofit's role in improving lives and curing type 1 diabetes."
"JDRF is incredibly grateful for the support of Harris Teeter," said Margo K. Lucero, JDRF's vice president of corporate development. "The donation campaign at checkout will not only raise much needed funds to be invested in diabetes research but will also increase the awareness of the challenges faced by those living with type 1 diabetes."
Please click here to watch a short video message about JDRF and the donation card campaign.
About T1D
In T1D, a person's pancreas stops producing insulin, a hormone that enables people to get energy from food. People with T1D need to test their blood sugar and give themselves insulin (with injections or an insulin pump) multiple times every day, and carefully balance insulin doses with eating and daily activities throughout the day and night. However, insulin is not a cure for diabetes, and even with that intensive care, a significant portion of the day is still spent with either high or low blood sugar, placing people with T1D at risk for devastating complications such as heart attack, stroke, blindness, and amputation.
About JDRF
JDRF is the leading global organization focused on type 1 diabetes (T1D) research. Driven by passionate, grassroots volunteers connected to children, adolescents, and adults with this disease, JDRF is now the largest charitable supporter of T1D research. The goal of JDRF research is to improve the lives of all people affected by T1D by accelerating progress on the most promising opportunities for curing, better treating, and preventing T1D. JDRF collaborates with a wide spectrum of partners who share this goal.
Since its founding in 1970, JDRF has awarded more than $1.7 billion to diabetes research. Past JDRF efforts have helped to significantly advance the care of people with this disease, and have expanded the critical scientific understanding of T1D. JDRF will not rest until T1D is fully conquered. More than 80 percent of JDRF's expenditures directly support research and research-related education.
About Harris Teeter
Harris Teeter Inc., with headquarters in Matthews, N.C., is a wholly-owned subsidiary of Harris Teeter Supermarkets, Inc. (NYSE: HTSI). Harris Teeter is the 24th largest supermarket in the U.S. with 2012 sales of $4.54 billion. The regional grocery chain employs approximately 25,000 associates and operates stores in North Carolina, South Carolina, Virginia, Georgia, Tennessee, Maryland, Delaware, Florida and the District of Columbia.