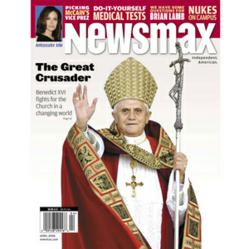 Benedict XVI is a crusader who is challenging Europe and the West's seemingly ineluctable side toward secularism.
West Palm Beach, Fla (PRWEB) March 01, 2013
"The Great Crusader — Benedict XVI fights for the Church in a changing world" predicted the Pope Benedict XVI would face years of political upheaval inside and outside of the Church as he dealt with growing secularism in the West and rising Islamic fervor in the East.
As Pope Benedict XVI now begins his retirement as Pope Emeritus, Newsmax magazine releases this special cover story, with insight on his historic visit to the United States and a look at this critical time for the Roman Catholic Church and its more than one-billion followers around the world.
To read the full article, please visit http://www.newsmax.com/Pages/landingPages/magazine/Pope/
To obtain your copy of this special 2008 edition of Newsmax Magazine, please visit http://www.newsmax.com/pope2.