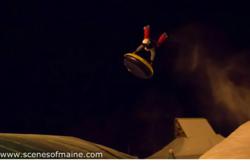 They're having so much fun they can't stop giggling
Bridgton, ME (PRWEB) March 02, 2013
A thrilling new adventure is now available at Shawnee Peak Resort. Snow tubes have been coupled with the new Big Air Bag and the experience has captivated visitors.
Basically, the offering combines the thrill of tubing down the mountainside with the "launch factor," of the Big Air Bag.
"It's amazing how much air those snow tubes can catch," says Shawnee Peak General Manager Ed Rock. "I've seen kids launch through the air and they're having so much fun they can't stop giggling."
No special skill or experience is required for the adrenaline pumping experience. "You just have to enjoy having fun," says Rock.
The tubes fly through the air and then safely land into the soft, cushy Big Air Bag.
Vistors can enjoy the Air Bag tubing, Friday from 4pm-8pm, and Saturday and Sunday from 3-8pm.
For more information on tickets visit shawneepeak.com.
About Shawnee Peak: Shawnee Peak is a privately-owned, family ski resort in Bridgton, Maine, just twenty minutes from North Conway, New Hampshire.
Celebrating it's 75th year of operation, the mountain boasts 98% snowmaking, 1300 feet of vertical drop, 239 skiable acres, 40 daytime trails and 19 lit trails for night, as well as two terrain parks.
The mountain is family-driven, affordable, and provides skiing and riding for all levels and abilities. To learn more about the mountain and special offers, visit http://www.shawneepeak.com.