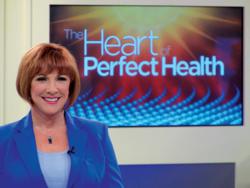 Silent inflammation is so pervasive—and evasive—that most people have no idea it is happening to them
Clearwater, FL (PRWEB) March 01, 2013
Transforming America's Health
For the past 20 years, Brenda Watson has committed herself to uncovering the core of optimum health with her in-depth experience with digestive care, digestive disease, and its many health repercussions. Her bestselling books, health supplements, PBS shows and clinics have reached millions across America, giving them the tools to transform their health through a powerfully simple and integrated approach.
Celebrity health icon, Suzanne Somers, says of Brenda's essential digestive and total-body health reference book, The Road to Perfect Health: "This book is a must for every household and doctor's office." Now, Brenda's latest work sheds light on the gut connection to the nation's #1 killer of men and women, heart disease, and the accompanying obesity and diabetes epidemics.
Heart of Perfect Health: The Startling Truths About Heart Disease
Heart of Perfect Health debuted late November-early December, 2012, on PBS-TV stations nationwide but due to its overwhelming success, it is back on air March 1-16, 2013. In this groundbreaking exposé, Brenda uncovers the root of America's #1 killer, heart disease, in a hidden condition known as silent inflammation.
"Silent inflammation is so pervasive—and evasive—that most people have no idea it is happening to them," says Watson. "Yet research now tells us that silent inflammation is directly linked to high blood pressure, high cholesterol, high blood sugar, and obesity, which all lead to heart disease and diabetes. This is information that is vital to our nation's health."
And the Power You Hold to Stop It
Heart of Perfect Health is not simply about the problem of silent inflammation, however, but about the real and accessible solutions we all have to stop silent inflammation and improve heart disease health markers—high cholesterol, high blood pressure and high blood sugar.
"We don't think of the gut when we think of heart disease," says Watson, "though these two areas of the body are indeed linked. My new PBS show details this connection and what we can do to reverse the vicious cycle of silent inflammation for good, and avoid becoming another health statistic."
"Viewers will be shocked at what is causing their silent inflammation and delighted with the power they hold to turn it around, starting in their own kitchens."
Brenda's previous PBS shows have generated over $11 million in pledges and are consistently rated at the top. Her warm, accessible approach to health and her own story of healing herself, her family, and many others from chronic illness have made her a hit with viewers.
Brenda Watson, C.N.C. is among the foremost authorities today on natural digestive care and nutrition. She is a New York Times best-selling author, celebrated PBS mainstay, and founder of ReNew Life Formulas, Inc., a nationally distributed line of award-winning digestive supplements and functional foods with a focus on superior consumer education.
Watch Heart of Perfect Health: The Startling Truths About Heart Disease and the Power You Hold to Stop It March 1-16, 2013, on PBS. For additional information, please email: bcooper(at)renewlife(dot)com or visit http://www.brendawatson.com.