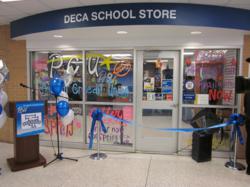 We have always been a strong supporter of both financial literacy for young people and giving back to the community. PCU President Brian Sherrick
Woodbury, MN (PRWEB) March 01, 2013
Postal Credit Union (PCU) has announced the opening of a Student Credit Union at Tartan High School in Oakdale. The student branch is operated by students, serving students, with a goal of teaching youth the basic principles and practices of the financial services industry.
This in-school credit union branch will operate on the Tartan premises and will provide the opportunity for students and teachers to conduct a number of financial transactions such as opening checking and savings accounts, accepting deposits, and taking loan applications. PCU installed an ATM that students and teachers can use at no charge to access their PCU accounts in order to make deposits and withdraw cash.
"PCU is proud to partner with Tartan High School on this endeavor that will benefit everyone – students, teachers, and even parents," said Brian Sherrick, President of Postal Credit Union. "We have always been a strong supporter of both financial literacy for young people and giving back to the community. We feel as though implementing a student-operated credit union is the perfect way to merge those two goals into one product that is representative of what we stand for as a financial institution."
The students who work in the PCU Student Credit Union will develop a deeper understanding of how a financial institution operates. In addition, all students will have an opportunity to open accounts and learn first-hand about the benefits of saving for future goals, budgeting and establishing a strong credit history before they leave high school.
To be considered for employment in the PCU Student Credit Union branch, students must be an active member of Tartan's DECA Program. Products available to students include a Share Savings Account and a Free Student Checking Account.
After opening a Free Student Checking Account, students are eligible to get a Student Savers CD or a Credit Builder Loan. The Student Savers CD pays an above-market rate of 2.00%, and is available for members aged 12-17. A Credit Builder Loan in an amount up to $2,500 can be granted to a student. There is no credit check required. Funds from the loan are then placed on hold in the student's savings account. Monthly payments are made to the loan to help build credit. Once the loan is paid in full, the funds on hold in the account are released to the student.
PCU feels the Credit Builder Loan is especially important for students. Often times having no credit history is just as detrimental as having a bad credit history. This particular product introduces students to credit, establishing a credit history and reinforces the importance of maintaining a good credit history.
Founded in 1926, PCU is a member owned financial institution that specializes in providing excellent member service, great rates and convenience. PCU offers a complete range of services, including 24/7 loan approval, mortgages, online banking, online deposits, mobile banking, free checking, business services, investment services and more. PCU is proud to serve Anoka, Chisago, Dakota, Hennepin, Ramsey and Washington counties, with office locations in Eagan, Hugo, North St. Paul, West St. Paul and Woodbury. For more information, call 651-770-7000, 800-247-0857 or visit http://www.postalcu.org.