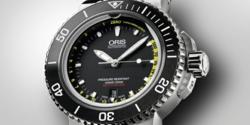 (PRWEB) March 01, 2013
Oris are to launch a brand new luxury diver's watch that deliberately allows water to enter its front mechanism as part of its intelligent depth gauge measurement. The Aquis Depth Gauge, set to be introduced at Baselworld in April later this year, is the first Oris watch with such a feature and promises to offer a blend of design and scientific innovation that will delight customers.
Whilst the product isn't the first of its kind – IWC's Aquatimer Deep One and Two and Blancpain's X Fathoms have also used an ingress of water to gauge depth levels in the past– it certainly is the first of such diving watches to be manufactured as such a slick, slight and affordable product, rather than the more heavily engineered products already out there. Whilst similar products from other brands cost upwards of £10,000, this Oris timepiece is availble at a far more accessible £2,100, for which owners will enjoy outstanding quality and irrepressible style.
So how does the Depth Gauge's depth measurement work? Built upon the application of Boyle's Law, a small hole over the watch's 12 o'clock marker allows water into a small channel around the dial. As the pressure rises deeper beneath the surface of the water, the air within this channel compresses, and ultimately lets more water in, allowing an easy dial reading of the diver's depth level. Simple, and yet beautifully engineered and exquisitely executed.
Water resistance – up to 500 metres – is maintained by the gasket sitting between the crystal and stainless steel case the watch is contained within and a uni-directional rotational bezel ensures safe time measurement of dive times by ensuring measured can only be shortened – rather than lengthened - by a bump.
The intelligent technology doesn't end there either; the Aquis Depth Gauge also includes a smart safety clasp, a development by Oris that ensures the watch won't fall off even if it somehow becomes undone. Whilst this may not seem like the most essential feature for an everyday watch, this technology can be invaluable when diving hundreds of metres below the surface of choppy waters. The piece also comes with alternative bracelet and strap options, both of which have a quick extension system for easy adjustment.
Due for delivery in April 2013, the Oris Aquis Depth Gauge will soon be available for purchase in Watches of Switzerland high street stores and on their website online, alongside the host of other quality luxury watches already at hand. Watches of Switzerland has showrooms in London, Brighton, Manchester, Birmingham and Edinburgh. Visit their website at http://www.watches-of-switzerland.co.uk.