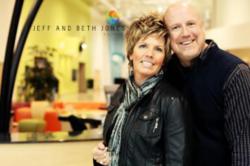 (PRWEB) March 02, 2013
Jeff Jones, co-founder of Jeff and Beth Jones Ministries and senior pastor at Valley Family Church in Kalamazoo, Mich., recently returned home from a two week trip to southeast Asia where he trained Christian leaders and encouraged pastors in partnership with Equip Leadership. He spoke 16 times in 11 days in Baguio City, Cagayan de Oro, and Manila in the Philippines, as well as Bangkok, Thailand.
During the international trip, Jeff assisted in the teaching of two different Equip Leadership Conferences in the Philippines. There, he taught three lessons on the Law of Momentum, the Law of Sacrifice, and on Developing a Strong Financial Base for Ministry. The lessons on Momentum and Sacrifice both come from Dr. John Maxwell's book on the 21 Laws of Leadership.
Jeff and his wife, Beth Jones, have partnered with Equip Leadership for many years to help carry out Equip Founder Dr. John Maxwell's mandate to train over 11 million Christian leaders around the world. The non-profit organization specializes in the development of effective international Christian leaders through live conferences, biblically-centered resources, technology, and partnerships.
On Sunday, January 27, Jeff spoke twice at Word of Hope Church, a multi-campus church with 35,000 people in attendance, pastored by Dr. David Sobrepena. He also spoke at a pastor's conference in Baguio City, Philippines, on Dealing with Criticism and Building a Healthy Church Culture. Jeff concluded with a lesson on Bringing Balance to your Ministry.
The following Sunday, February 3, Jeff spoke twice at Bangkok Liberty Church, pastored by Dr. Anuparp Wichitnantana. He taught a different set of Equip lessons on Making the Most of Today; Managing My Family, My Thinking, and My Commitments; and Managing My Generosity, Values, and Growth.
"I was both inspired and challenged by the passion and excitement that I saw in the lives of Christian Leaders in the Philippines and Thailand," said Jeff Jones. "I truly look forward to returning."
About Jeff and Beth Jones Ministries
Jeff and Beth Jones Ministries is a non-profit organization focused on helping people get the basics. For more than 30 years, Jeff and Beth Jones have dedicated their ministry to helping people get the basics of the Christian faith. Jeff and Beth Jones are the Christian authors of the free, daily electronic devotional, "The Basics" Daily Devo. They are taking the basics around the world so that others get it.
Jeff and Beth Jones are also the senior pastors and founders of Valley Family Church located in Kalamazoo, Michigan. To sign up for their free Daily Devo, visit http://www.getthebasics.org. For more information, visit http://www.jeffandbethjones.org, or follow Jeff and Beth Jones Ministries on Twitter at @getthebasics and like them on Facebook at http://www.facebook.com/jeffandbethjones.