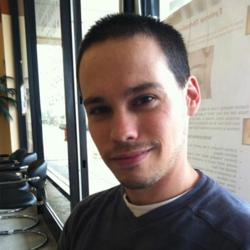 I'm happy to be able to further my career with this creative group. I can apply my skills and originality to be an essential member of the team.
(PRWEB) March 05, 2013
New to the team at Idea Marketing Group is frontend developer Len Bradley. His journey into the web development world began several years ago in 2003 when he agreed to lend a friendly hand.
When Len's gaming community became desperately in need of someone to host, build, and maintain a website he stepped up and took on the role in which exposed a passion. In the years since discovering his aspiration for web development Len has dedicated a lot of his time to learning. Covering the basic essentials of web design to depths of web development, graphic design and 3D modeling Len has absorbed himself in creating anything and everything that comes to mind.
Len landed his first job in the industry in 2006 working for a company including a team of developers where he was able to participate in more hands on work. He enjoyed that opportunity but in time the group lost funding and Len had to move forward in his career. That is when he made the move to join the team at Idea Marketing Group. Although Len is the newest member of the team at Idea, he shows no signs of holding back. He has a great amount of expertise as a frontend developer and adds a lot of depth to the development services at Idea.
When Len isn't busy with website design he has no intention of shying away from the computer. Online gaming is what brought him into the web design world and he hasn't forgotten about it. There are many things that Len enjoys doing online however he doesn't limit himself. When he spends his time away from the computer Len enjoys playing and writing music on the guitar, drums, and piano. In addition to being musically inclined he also enjoys doing activities outdoors, some of which are playing baseball, football, fishing or hiking. There are many hobbies that Len enjoys and he says that "web design is not just a hobby or an interest but I am happy that it has become a career." He is excited to have started working with the team at Idea and to continue his experience as a developer.
Idea Marketing Group is a small agency who is big on talent with specialties in branding, web design, graphic design, and marketing. For more information on Len Bradley or Idea Marketing Group please visit our website.