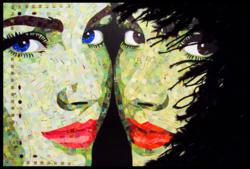 "My work reflects society's obsession with beauty in advertising; images that bombard us daily."
Richmond, Virginia (PRWEB) March 04, 2013
Sandhi Schimmel Gold narrates the lives of women through art on canvas. Her subject might be a character in a book, an image from a magazine, a pop-culture phenom, a mother, a daughter, or a member of the clergy. She has illustrated women as varied as a Hindu Goddess, an Opera Star, Mother Nature and a High-School Graduate.
Women's lives, emotions and challenges are her inspiration, their faces her specialty and why Sandhi Schimmel Gold's fascinating paper mosaic portraits have been chosen for two prestigious "Women's History Month" Fine Art Exhibitions.
Growing up in a time when the Women's Movement was just beginning, Schimmel Gold was not expected to follow a career other than wife and mother. She was not encouraged to pursue fine art or fashion design.
Schimmel Gold, never formally trained as an artist, considers herself an art world outsider. She attended college and eventually married, had a child, divorced and worked; in retail, in nonprofit. After her second marriage at age 50, Schimmel Gold was finally ready to follow Georges Sand's advice "You're never to old to become what you might have been." She quit her executive post, and became a full time artist. Since then, her intricate work has been seen in galleries from coast to coast, and is a feature is in numerous important private, corporate and permanent museum collections.
From her studio in rural Virginia, Schimmel Gold developed her own art form - "Acrylic Mosaic Fusion" where she married her two favorite mediums. She creates the illusion of a mosaic by affixing paper "tiles" on to her original paintings. There is a further unique aspect to her work as all the paper that would otherwise go to waste. This art form is similar to Papier collé, popularized by Picasso.
During Women's History Month, Schimmel Gold's work can be seen at the following exhibits:
The University of Maryland, Baltimore: Artist Spotlight Celebrating Women's History Month. A Meet the Artist Reception will be held Friday, March 8, 2013 6:00 p.m. - 7:00 p.m. Southern Management Corporation Campus Center 621 W. Lombard Street, 2nd Floor. Baltimore, MD. Guests should register online. The exhibit will remain on display into April.
Beyond Appearances: Intricate Portraits at the GE Cultural Art Gallery in Connecticut. This private showing is via presented by the Women's Network at GE. The portraits presented in this exhibition reveal the thoughts, relationships, and realities that lie beyond the surface. Sandhi's portraits reveal layer upon layer of the personalities within, as the art chosen for this exhibition contextualizes the vast collective memory that courses through the veins of women's history.
Schimmel Gold's art is also on display as part of "Messages in the Mosaic" exhibit in the Gumenick Gallery located at the Cultural Arts Center in Glen Allen, Virginia.
Schimmel Gold is represented by the following galleries: Chasen Galleries in Richmond, VA - Arts & Artisans in Chicago, IL - Matthew Campbell Gallery in Greenville, SC and The Loft at Liz's in Los Angeles, CA. In addition, Schimmel Gold shows her work at a variety of art festivals and events.
Sandhi Schimmel Gold has been spotlighted in many national and international magazines and on several television shows from Access Hollywood to PBS; "My Generation" and "Virginia Currents."
Sandhi Schimmel Gold currently has over 50 pieces of original fine art for sale through galleries or current exhibitions, some available from the artist herself. To schedule an interview with the artist, please contact her via phone or email.
# # #