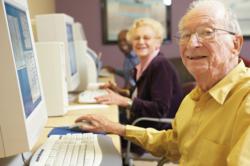 "I never knew you could see things like this on the internet, this is wonderful, coming here today was the best thing I could have done."
London (PRWEB UK) 4 March 2013
streetlife.com is calling on local people and organisations to help others understand, explore and enjoy digital technology as part of Spring Online, one of the nation's largest annual digital inclusion campaigns, running from 22nd to 26th April 2013.
Official figures last month revealed that just over 7.4 million people in Britain have never used the internet; of those, about 6.3 million are aged over 55 years. Many more don't have basic online skills such as searching the web or sending and receiving emails, and are missing out on all that computers and the internet can offer.
Supporting those who lack digital skills and confidence is essential in this modern age. It can help people save money, reduce feelings of isolation, enable them to find new hobbies and interests, enhance relationships with family living further afield, and help them keep in touch with their local community.
Now in its 12th year, Digital Unite's Spring Online campaign has helped tens of thousands of people make digital technology a part of their everyday lives, by supporting members of the community to run free taster sessions introducing older people and other less confident users to technology. This year, around 2,500 Spring Online events are expected to be held in sitting rooms, boardrooms, classrooms and pubs across the UK, helping thousands of people to use computers and the internet – many for the first time.
Nina Whittaker, Head of Communities at Streetlife, explains that Digital Unite's Spring Online campaign is a natural fit for the local social network: "streetlife.com is all about encouraging local communities to come together and use digital technology to help improve lives – whether that's through sharing practical information or recommendations, exchanging skills and belongings, or building real-world friendships with neighbours. Chatting over the garden fence is impractical for many, but streetlife.com helps people with busy routines or reduced mobility to become more involved locally. Spring Online is a fantastic initiative to enable more people to experience the many benefits the internet can offer, with the support of friendly volunteers within their local community."
Those who are new to the internet have a wealth of knowledge to share, and much to gain from connecting online. Joyce, a previous Spring Online attendee, was moved to tears when she saw photographs online of where she used to live, saying: "I never knew you could see things like this on the internet, this is wonderful, coming here today was the best thing I could have done." Another gentleman recovering from a stroke learnt to access online banking and shopping, making a huge difference to his quality of life.
Emma Solomon OBE, Managing Director of Digital Unite said: "We are delighted to have streetlife.com's support for Spring Online this year. In our experience we know that all many people need is a helping hand at a venue close to home to get them started. If people can be engaged and supported at a local level there is a far greater chance of them going on to become active and discerning users of modern technology. That is why Spring Online has been so effective over the last 12 years and why, with a little help from streetlife.com, we hope many more local communities will get involved to help others get online."
Find out more about Spring Online at http://www.digitalunite.com/spring-online or call 0800 228 9272. Join the conversation with your neighbours on the local social network: http://www.streetlife.com.
--------------------
About streetlife.com
streetlife.com, the local social network, has a simple aim: to help people across Britain make the most of where they live by connecting and sharing with their neighbours. The website provides a free and easy place for residents, community groups, local government representatives and businesses to share practical information, advice, skills and resources.
The streetlife.com team believes that better connected neighbours build stronger communities, and that digital media has a key role to play in bringing together people with busy routines or reduced mobility, to discuss and improve the local issues they care about.
Main uses of the site include:

discussing nearby news, crime, planning proposals and public services
finding locals with common interests, organising and attending social groups and events
sharing skills and belonging with neighbours, from hedge-trimmers to spreadsheet skills
recommending and discovering local businesses and tradespeople
promoting, campaigning and volunteering for community projects and local causes
--------------------
About Digital Unite
Digital Unite is an independent organisation and one of the leading providers of digital skills learning in the UK. The company has been helping housing providers and other community organisations to deliver digital inclusion strategies and activities through a range of products and services. This includes online courses to develop Digital Champion skills, an extensive and free collection of online learning guides, a quality assured network of tutors and the award-winning Spring Online campaign which this year takes place between 22 – 26 April.
--------------------