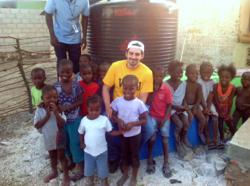 Nashville, Tennessee (PRWEB) March 04, 2013
Brad Paisley announced the first leg of his highly anticipated 2013 tour, Beat This Summer Tour presented by Cracker Barrel Old Country Store®. Paisley is partnering with LiveBeyond by donating $1 from each ticket sale to support its mission to provide medical care, clean water, nutritional support and development activities to impoverished communities in Haiti.
LiveBeyond has been conducting mobile medical clinics on the outskirts of Port-Au-Price, Haiti since the 2010 earthquake. Construction is underway on the LiveBeyond Base, Thomazeau, a community development project to establish a surgical hospital, orphanage, school, demonstration farm and worship center. Paisley recently returned from a visit to the Thomazeau community to review the construction progress and immediate needs of the area. He along with wife, Kimberly Williams-Paisley are focused on providing clean water access to this region of 200,000 residents.
About LiveBeyond:
Live Beyond (MMDR) began as a response to Hurricane Katrina in 2005 with immediate delivery of medical aid and supplies to the affected regions. Since the 2010 Haiti earthquake, MMDR has worked extensively near Port-Au-Prince providing medical care, nutritional support, clean water, and micro-finance. Established as a 501(c)(3) humanitarian organization, MMDR has transitioned its work under a new name, LiveBeyond, to reflect a broadened mission as an organization that chooses to Live Beyond ourselves, our culture, our borders, and this life so that others can Live Beyond disease, hunger, poverty, and oppression.
About Brad Paisley:
Paisley is a critically acclaimed singer, songwriter, guitarist and entertainer, which has earned him three GRAMMYs, 14 Academy of Country Music Awards, 14 Country Music Association Awards including Entertainer of the Year for 2010, 3 ASCAP Country Music Songwriter/Artists awards and numerous other awards. He is a proud member of the Grand Ole Opry. Since his first #1 single in 1999 he has placed 21 singles at the top of the charts, the latest being his current single "Southern Comfort Zone." Paisley's upcoming album, Wheelhouse, will be released on April 9. Paisley produced the album and wrote or co-wrote all of the tracks. His 2012 Virtual Reality World Tour played to over one million fans in the U.S. and Europe. Visit http://www.bradpaisley.com for more details regarding the upcoming tour schedule.