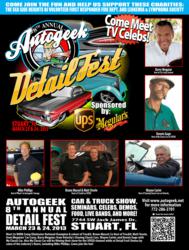 Stuart, Fl (PRWEB) March 01, 2013
Autogeek will host the 8th annual Detail Fest & Car Show, offering a unique opportunity for car enthusiasts from around the globe to gather and celebrate their shared passion for cars! Detail Fest is a free, two-day event that is open to the public and will feature car shows, product demonstrations, mini-detailing classes, food vendors and live entertainment. Detail Fest provides a chance for fans and professionals alike to meet industry insiders and celebrities in a fun and casual setting. Each year, awareness of Detail Fest grows and Autogeek anticipates a record number of participants and spectators this year. A portion of the proceeds from Detail Fest 2013 will benefit the Leukemia & Lymphoma Society, the Humane Society of the Treasure Coast and the Seaside Heights Volunteer Fire Company, NO. 1, a charity benefiting the Seaside Heights New Jersey Volunteer Fire Department First Responders. Four members of the Seaside Heights Volunteer Fire Department, Honorary Chief Louis Nardone, First Lieutenant Brian J. Dardis, Battalion Chief Brian D. Hoffangle and fire fighter Robert W. Stewart, will be on hand all weekend to share harrowing stories of courage in the aftermath of Hurricane Sandy.
On Saturday, March, 23, the Detail Fest Car Show will take place, handing out a total of 15 trophies to winning participants! Throughout the day, everyone is encouraged to visit vendor booths to ask questions, watch product demonstrations and meet celebrities. This year, expect to see Dennis Gage, Bruno Massel, Matt Steele, Barry Meguiar, Wayne Carini and Autogeek's own, Mike Phillips! Dennis Gage, the host of My Classic Car, will be signing autographs during two hour-long sessions on Saturday and will interact with vendors as he films for his SPEED Channel TV series. Bruno Massel is the cohost of SPEED TV's TruckU and driver of Autogeek's National Hot Rod Association (NHRA) car. Bruno will be celebrating at Detail Fest after winning the 2012 NHRA Championship title that made him a two-time NHRA world champion. Matt Steele, cohost of TruckU will be on hand to shoot an episode of his new show Matt Steel Outdoors. Barry Meguiar of Meguiars Car Care fame will also be signing autographs. Throughout the weekend Autogeek's own Mike Phillips will be signing copies of his book, interacting with vendors and hosting mini-detailing classes.
On Sunday, March 24, the Car Club Show will feature several Corvette Clubs from all over the state of Florida and there will be Corvettes from a wide range of model years on display. Wayne Carini from Velocity's Chasing Classic Cars will arrive on Sunday to sign autographs. Bruno Massel, Matt Steele, Dennis Gage Mike Phillips will be present on both Saturday and Sunday to interact with fans and sign autographs. Autogeek will also offer facility tours throughout the weekend for those seeking a behind-the-scenes look at the action.
Detail Fest is a free event that is open to the public. Enthusiasts, vendors and professionals alike will gather for an action-packed weekend of detailing tips and demos along with the opportunity to spend time with other people that are also passionate about detailing. The event runs from 9:00 AM – 4:00 PM on both Saturday and Sunday, March 23-24 at 7744 SW Jack James Drive in Stuart, Florida. Join the fun and enjoy food, drinks, classes with Mike Philips (pre-registration required), refinishing system demonstrations, polisher and buffer demonstrations, facility tours, sanding demonstrations, dent/ding demonstrations, hands-on training, entertainment by Tommy Winch and so much more! Pre-registration is required to participate in Saturday's car show. For more information, please contact Meghan Poirier by calling 772-286-2701, via email by writing to Meghan(at)autogeek(dot)net, or by visiting http://www.autogeek.net/detail-fest.html.
For additional information about The Leukemia & Lymphoma Society, please contact Tracy Navakas at 4360 Northlake Boulevard, Suite 109, Palm Beach Gardens, FL, 33410, (561) 775-9954 or e-mail tracy(dot)navakas(at)lls(dot)org. For more information about the Humane Society of the Treasure Coast, please contact Jackie Ranaldo, Community Events Manager, 4100 SW Leighton Farm Ave., Palm City, Florida 34990 772-600-3211 or e-mail JRanaldo(at)hstc1(dot)org. For further information on the Seaside Heights Volunteer Fire Company, NO. 1 charity benefitting the Seaside Heights NJ Volunteer First Responders Fire Department, please contact the Seaside Heights Fire Department at 116 Sherman Ave, Seaside Heights, NJ, 08751, (732) 793-0445 or visit http://www.shfd44.com.