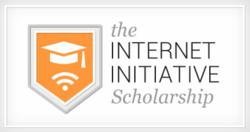 For most students these days, the Internet is an integral part of their lives
CHARLOTTE, North Carolina (PRWEB) March 06, 2013
The Internet Initiative, an organization created to promote and share online scholarships, today announced a new scholarship in conjunction with InternetServiceProviders.com, an online marketplace for Internet service.
The scholarship, titled "The Internet Initiative" is a $2,500 scholarship open to all students actively enrolled, or soon to be enrolled, at an accredited college or university for the Fall 2013 semester. Like the organization itself, The Internet Initiative scholarship was created to take advantage of and celebrate the ease of information sharing on the Internet.
To apply, students must write a blog post answering the following questions: What do you plan to do after college? How would you use the internet to help you excel in your occupation? Students can post their entry to any blog they want—from a personal blog to an online portfolio, as long as it can be linked to. Then they fill out the short entry form on the application site, and submit a link to their post.
The winner will be announced in June, and his or her entry will be shared on InternetServiceProviders.com as well as on social media and the Internet Initiative home page.
"For most students these days, the Internet is an integral part of their lives," Initiative spokesperson Kimberlye Worth said. "From scholarship applications to online classes, the role of the Internet in education is only going to grow. We want to celebrate that growth, while also recognizing talented students."
Worth said the partnership with InternetServiceProviders.com will be the first of many. The Internet Initiative Organization plans to partner with more Internet service providers and marketplaces in the future. For more scholarship details, visit Internet Service Provider's scholarship page.
The Internet Initiative was started in 2012 to create, promote and share online scholarships. Visit TheInternetInitiative.org for more information.
InternetServiceProviders.com is home to The Internet Marketplace, an online aggregator of Internet service deals by ZIP code.
Media Contact
Kimberlye Worth, Internet Initiative Outreach Coordinator
Kimberlye(at)theinternetinitiative(dot)org