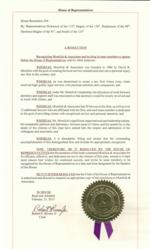 Our lawyers and team members work very hard to provide exceptional service to every client; and our firm has been committed to giving back to the community because it is important and it is the right thing to do.
Atlanta, GA (PRWEB) March 12, 2013
The Georgia House of Representatives passed House Resolution 394 honoring Montlick & Associates, Georgia Personal Injury Attorneys, for providing efficient, effective and dedicated services to the citizens of Georgia. Clerk of the House, Robert Rivers Jr., read and adopted the resolution on the House floor Tuesday morning. The resolution recognizes the law firm for providing high quality legal services to accident victims, delivered with personal attention and compassion, since the Atlanta-based law firm was founded in 1984. The resolution also recognizes Montlick and Associates for their commitment to family safety, injury prevention and support of U.S. troops through the firms' extensive community service programs.
State Representatives Pam Dickerson and Carolyn Hugley also honored the Georgia law firm before the House of Representatives at the State Capitol for their exemplary efforts to protect children from bullying. In accepting the honor on behalf of David Montlick and Montlick & Associates, Melinda Jeffress, the firm's Director of Community Programs, spoke of the firm's pride in partnering with Children without a Voice, USA as the founding sponsor of the Ambassadors for Kids Club (A4K), a national anti-bullying program. Over the past year, the firm has supported A4K in carrying out its mission to prevent and stop bullying and other forms of child abuse in Georgia schools and communities, as well as across the country.
In addition to recognizing the firm for their work with the Ambassadors for Kids Club, the resolution commends Montlick & Associates for their overall dedication to protecting Georgia citizens.
David Montlick, Founder and CEO of Montlick and Associates, is humbled and very appreciative of the honor. "Our lawyers and team members work very hard to provide exceptional service to every client; and our firm has been committed to giving back to the community because it is important and it is the right thing to do," says Montlick. "Never did I expect or hope for recognition. I am very thankful for this very special honor."
Over the last 30 years, Montlick & Associates has demonstrated its commitment to giving back to Georgia families through a wide range of meaningful and extensive injury prevention and community service programs, such as:
Family Safety & Legal Tips program
Don't Text and Drive Campaign
Tribute to Our Troops
Child Passenger and Booster Seat Safety Programs
Don't Drink and Drive Campaign
Teen Driver Safety Partnership with Safe America
The firm's Help Keep Kids Safe
DNA LifePrint Child Safety Program
Founding Sponsor National Anti-Bulling Program
Over the years, the firm has televised thousands of special "Tribute to Our Troops" messages, in addition to running their public service messages intended to help keep families safe by providing them with important tips to help prevent injuries. To view the special messages and to learn more about each of Montlick & Associates' programs visit the firm's website at Montlick.com.
Montlick.com provides a wealth of helpful resources including safety videos, free downloadable safety materials, legal help videos, as well as a 24/7 live online chat and a free case evaluation form.
About Montlick & Associates
The Georgia Personal Injury Attorneys at Montlick & Associates have been helping families in Georgia and throughout the Southeast since 1984. The firm's practice is focused in the area of personal injury law, and helping injured people get the compensation they deserve. The firm has a long history of extensive public service programs, with the main focuses being helping families prevent injuries, and supporting our troops. The firm was named the "Most Patriotic Business of 2011" by the Association of the United States Army in Atlanta for its efforts to support the troops, and its CEO David R. Montlick received a Patriotism Award in 2012 for the Southeast. To learn more about Montlick & Associates visit http://www.montlick.com.