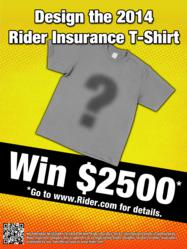 Springfield, NJ (PRWEB) March 01, 2013
Starting March 1, 2013, applicants can submit an original design for Rider's 2014 T-Shirt. The design should incorporate the Rider Insurance Logo and appeal to the motorcycle community. The winning design will be utilized on a shirt that will be distributed at motorcycle related events, as well as sold on the Rider web store. The contest ends on October 1, 2013 at 11:59 p.m. EST and is open to all legal United States residents 18 years or older. Void in Guam, Puerto Rico, the U.S. Virgin Islands, and other U.S. territories and possessions and where prohibited by law. Up to five entries will be selected by Rider or an independent judging agency on or about October 15, 2013 and the public will vote for the grand prize winner on Rider's website between October 21, 2013 and December 6, 2013.
The grand prize winner will receive a $2,500 Visa Gift Card and each finalist will receive a Visa Gift Card in the amount of $100. The winners will be notified on or about December 6, 2013. Go to http://www.rider.com/tshirtcontest for the official rules and entry instructions.
About Rider Insurance
Founded in 1971 by motorcycle enthusiast Harry Bleiwise, and built on his dedication to riding, Rider is currently the largest motorcycle insurance provider in New Jersey, and the only carrier serving the motorcycle community exclusively. Rider has been expanding its operations to provide coverage to riders on the highways and back roads of Delaware, Indiana, Maryland, Ohio, Pennsylvania, Virginia and West Virginia.
For more information on Rider Insurance, call 800-595-6393 or visit http://www.Rider.com. "Like Us" on Facebook or follow us on Twitter to get the latest updates on the 2013 Rider Insurance
T-Shirt Contest.