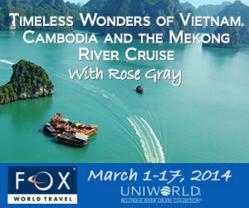 "Vietnam and Cambodia have been at the top of my list for many years." -Rose Gray
Milwaukee, Wisconsin (PRWEB) March 11, 2013
Fox World Travel recently announced a new Select Group Vacation to Vietnam and Cambodia in March 2014, escorted by Rose Gray, host of the Fox World Travel Show on WTMJ. During Fox World Travel's Timeless Wonders of Vietnam, Cambodia and the Mekong River Cruise and land tour, stay in hotels on land and also travel aboard Uniworld Boutique River Cruises' brand new River Orchid. The journey will start in Hanoi and end in Ho Chi Minh City for a 15-day land and river cruise experience through Vietnam and Cambodia. This is a unique, premier experience unlike any other. This March 1-17, 2014 group vacation from the Midwest will include roundtrip airfare from Chicago O'Hare already built into this custom package (additional airfare options available).
Hosted by Rose Gray, the travel agents at Fox World Travel are confident you will be in great company.
"Having had the good fortune to work in the travel industry for almost 30 years, I have had the opportunity to visit many of my "must see" destinations. Vietnam and Cambodia have been at the top of my list for many years; two completely different worlds joined by one life-giving river, the Mekong," said Rose.
Rose is a child of the sixty's and seventy's, so of course both countries' unique histories and ties to the United States are intriguing to her. More than that, she wants to visit these magnificent countries whose traditional charm and exceptional beauty are just beginning to open up to the outside world. In March of 2014, this travel wish is going to come true as Rose Gray and others discover Vietnam and Cambodia.
Uniworld offers an intimate encounter inside Vietnam and Cambodia. Be part of small groups as you descend into villages, markets and cultural sites, with one local guide for every twenty guests. Meet the people and visit the places that make up these fascinating destinations. In addition, travel to floating villages and sites by way of a luxurious sampan, and encounter a genuine experience every step of the way.
Uniworld's commitment to intimacy extends to the shipboard experience as well. The River Orchid, boasts just 30 deluxe staterooms, and no more than 60 guests at a time. This means that guests will be treated to gracious and personalized service. The staff onboard the River Orchid will be there to ensure guests have everything they need—morning, noon, and night. Whether sitting on the spacious sun deck being served a refreshing complimentary beverage as you watch the passing scenery or listening to an enlightening lecture, the staff will stand ready to make stays as special and comfortable as can be. There's simply no better way to experience the magic of these destinations along the Mekong River.
Highlights Include: Hanaoi, Vietnam; Siem Reap, Cambodia; Kampong Cham, Cambodia; Wat Hanchey,Kampong Cham, Cambodia; Angkor Ban, Chong Koh, Cambodia; Kampong Chhnang, Cambodia; Phnom Penh, Cambodia; Chau Doc, Vietnam; Sa Dec, Vietnam; My Tho, Vietnam; Ho Chi Minh City, Vietnam.
For details on this exciting escorted river cruise exploring Vietnam, Cambodia and the Mekong River, visit http://www.gofox.com/vietnam or contact a Vietnam Travel Specialist at Fox World Travel by calling 877-794-2551.