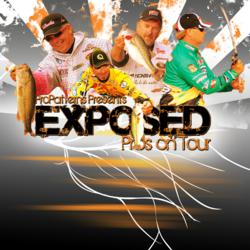 Yankton, SD (PRWEB) March 04, 2013
As a leader in fishing education online, ProPatterns brings you a new video series called Exposed which highlights the trials and tribulations of professional anglers during their official practice days as they prepare to compete for hundreds of thousands of dollars.
ProPatterns CEO and President, Chad Ekroth explains, "Exposed is a revelation in reality video for fishing, in two years we have been able to accomplish a feat no other video series in the angling world at this level has attempted." Ekroth adds, "The series involves official practice, which is the time on the water just prior to the tournament restricted to certain days and in some situations like the BassMaster Elite Trail, follows a long period of off limits. Exposed showcases those efforts during these official practice days. The fact these anglers are letting us in their boat to film during practice is hard for some of our viewers to believe but that is why these anglers are professionals, they not only love to educate but are able to deal with distractions."
One of the Season II premiers is on Douglas Lake in Dandridge, Tennessee. The premier highlights professional anglers Ott DeFoe, Mike McClelland and Pete Ponds. All three of these anglers made the first cut during the event. DeFoe and McClelland went on to finish in the top ten, and their practice time which was captured exclusively by Exposed provides insight into their tactics for dissecting this body of water.
This type of series is incredibly valuable to aspiring anglers including those wanting to learn more about a lake for their personal enjoyment or for those who may be trying to cash in on a tournament event. In the upcoming months both the Professional Anglers Association and the BASS Opens will be visiting this lake. Watching these three anglers can save competitors valuable time in research and potentially make a difference in their efforts to cash a check or further their careers.
Professional angler Ott DeFoe commented, "I had a great day while filming with Exposed, I shared a lot of valuable tips on a body of water considered to be my home lake. Some of the fans and media picked me as a top favorite which added a little more pressure to the situation, but that also motivated me to do well and make a run at the title. I may have not done a lot of fishing during my practice that week but that's the way it is for offshore events. It's all about finding the fish and saving them for the tournament!"
ProPatterns and the Exposed video series are following the lead of many business sectors who are offering insight through online resources. For more information about the Exposed video series, for ways to purchase DVDs and videos online and for more about the professional anglers involved please visit http://www.propatterns.com