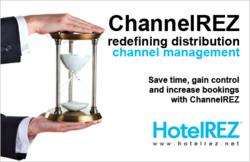 (PRWEB UK) 2 March 2013
A global team of industry professionals with a strong knowledge of the global distribution market is on hand. As part of the strong emphasis on quality and service delivered to HotelREZ members, HotelREZ has redefined Distribution by launching the newest channel management solution in the market, ChannelREZ.
What gives ChannelREZ the advantage over its competitors is that it offers a "stand alone" or "integrated/interface" with the hotel's PMS (Property Management System) delivering all reservations from all channels directly into your PMS. There is no better way to save time and gain control in the most reliable and efficient way possible. ChannelREZ is the best online application to enable hotels to update their rates, inventory and availability once only across all major Online Travel Agencies (OTA).
Futhermore, ChannelREZ uses an integrated XML based non-screen scraping channel management solution. The advantage of this XML integration is that it controls availability on all major channels including Global OTA's. HotelREZ offers the best in class service and standards as well as the most innovative technological solutions, ensuring our members retain a competitive edge. With same day support, we are committed to ensuring that our member's profiles are picture perfect across all channels.
Read more about ChannelREZ: http://tinyurl.com/cctd3vn
For requests and further information you can contact us on 0845 004 9393 or email us on info(at)hotelrez(dot)net
About HotelREZ
HotelREZ is a hotel representation company that provides Distribution, Revenue, Sales and Marketing Services. It was set up in 2004 to meet the distribution needs of independent hoteliers and now represents over 1,000 independent hotels and independently owned groups in more than 30 countries worldwide, offering great portfolio of luxury city centre hotels, country manors, boutique hotels and beach resorts that will meet every client's expectations. HotelREZ is the largest hotel representation company with alliances, exclusive partnerships and presence in over 80 offices worldwide.
Visit our websites http://www.hotelrez.net/ and http://www.hotelrez.co.uk/