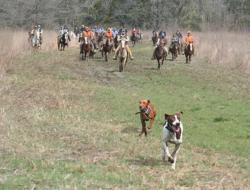 Giving back has always been an important part of DOGS Unlimited's philosophy.
Hudson, CO (PRWEB) March 19, 2013
The AKC Gun Dog Championships are an annual event that tests the best of the best from every pointing dog breed against one another. From Pointers to Vizslas, from English Setters to Irish Setters, from Brittanys to Weimaraners. And DOGS Unlimited will be there to say hello, say thanks, and to meet their loyal customers face to face.
"We always like to have a face to go with a name," says DOGS Unlimited owner, Alan Davison. "It definitely makes our transactions more personal, but it also helps us understand where they are in their training program and what they need. That way, when they call us, we can really help them with the product that makes sense for them."
Attending events like the AKC Gun Dog Championships also allows their people to keep up on the pulse of the Gun Dog world. "You can't run a successful business from a vacuum," says Davison. "You have to get out, see what's happening, see how it's happening, why it's happening, and take that back to your company. That's how you stay relevant."
Above and beyond these reasons, the DOGS Unlimited business philosophy has always been to give back to the community that supports them—a community that every employee of the company truly loves and is active in on a regular basis.
The AKC Gun Dog Championships begin on Saturday, March 16, 2013 at Branched Oak Field Trial Grounds, near Lincoln, Nebraska. Alan Davison and DOGS Unlimited are hosting cocktails on Saturday evening, March 23rd after the day's running has been completed.
The championships continue for approximately a week and are divided between retrieving and non-retrieving stakes and are open to qualified dogs from AKC registered pointing breeds. The most popular breeds include:
Brittany Spaniel
English Pointer
English Setter
German Shorthaired Pointer
German Wirehaired Pointer
Gordon Setter
Irish Setter
Red Setter
Vizsla
Weimaraner