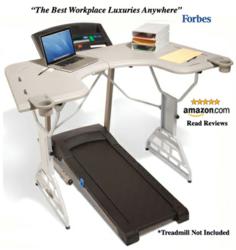 The message is simple: keep moving as much as possible to stay healthy.
Boston, MA (PRWEB) March 01, 2013
An employer would have to be living under a rock these past few years to not understand that sitting at a desk all day is dramatically impairing employee health. What an employer may not have realized (until a recently published study in the American Journal of Physiology) is just how quickly a bout of inactivity negatively impacts an employee. TrekDesk Treadmill Desk offers a solution designed to prevent this health risk to employees by allowing them to stay in motion while they work.
Scientists at the University of Massachusetts in conjunction with other institutions studied a group of healthy young men by deactivating the use of their left leg and forcing them to walk with a 4-inch heel on their right foot and walk with the assistance of crutches. The subjects were encouraged to move for the next two days keeping their inactive left leg from touching the ground.
After the two day period the leg muscles were biopsied to find that there were significant differences in the expression of multiple genes within the muscle tissue of both legs. The DNA repair mechanism had been disrupted in the inactive leg, oxidative stress was increasing, metabolic activity within the cells was decelerating, as was insulin response. These negative effects all occurred in as little as 48 hours.
Corresponding animal studies, which placed casts on their back legs to render them immobile, found that the impact on the cells extended to more than just the specific inactive body parts. Enzymes levels such as lipase that dissolve fat in the blood stream were significantly lower allowing fat to accumulate in the heart and liver, a potential harbinger of heart disease and diabetes.
Scientists in Australia previously stated that watching an hour of television without getting up and moving during the program reduces an individual's lifespan by 22 minutes regardless of the amount of exercise they performed that day. Do the math and one learns that ditching the television could add 1.8 years to an average male's lifespan.
"This is doom and gloom information certainly however there is a silver lining to this ominous health cloud," stated Steve Bordley, CEO of TrekDesk Treadmill Desk. "Studies are also showing that breaking up an hour of inactivity with short bursts of movement every 15 minutes can negate these health risks. The message is simple: keep moving as much as possible to stay healthy." The challenge in today's sedentary office occupations is finding time to pull away from the desk to remain active.
Designed to fit any existing treadmill, TrekDesk treadmill desk is an affordable, full sized, height adjustable workstation that allows individuals the opportunity to gain the necessary amount of exercise daily to maintain health, reduce stress, prevent disease, strengthen muscles, boost mood and productivity, without requiring additional time during the day or extra motivation. Wondering how to workout at work? TrekDesk treadmill desk offers the solution.
Join the TrekDesk "Movement Revolution" to learn more, spread the gospel regarding movement, or win a free TrekDesk http://www.facebook.com/trekdesk, or follow TrekDesk on twitter http://www.twitter.com/trekdesk. TrekDesk treadmill desk is currently available for sale online at http://www.trekdesk.com.