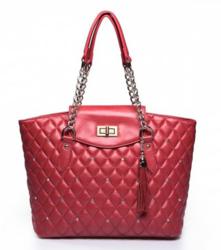 (PRWEB) March 01, 2013
Today, Wholesalesion.com, a well-known online shop for trendy handbags and purses, launches a promotion for its trendy handbags and purses collection. According to Effie B. Michael, a spokesman of the company, all customers can enjoy the discounted prices online from today to Mar. 15, 2013.
On the updated website of Wholesalesion.com, customers can find the styles in different styles and colors easily. Each handbag from Wholesalesion.com have an iconic shape and design which is quickly recognized as highly stylish and luxurious no matter where the holder is. The company promises to spare no energy to provide high-quality handbags and purse for costumers as well as fast delivery.
The handbags from Wholesalesion.com are famous for high-quality materials, fine tailoring, and meticulous production. The company focuses on supplying different varieties in wholesale handbags, wholesale purses, designer handbags and wholesale designer handbags for women. They are committed to providing customers with the hottest handbags in the market at affordable prices.
The spokesman stated, "An elegant handbag is not only a tool for her to carry personal items, but also a symbol of a woman's taste. We are proud to offer a perfect range of handbags and purses to satisfy the changing needs of customers who want to look fashionable without spending a lot. Welcome everyone to visit our website to find their dream bags and purses."
About Wholesalesion.com
Wholesalesion.com is a China based wholesale company specializing in providing different varieties of handbags and wallets. Their products are selected from the best manufacturers in Hong Kong, China and other countries in Asia. The company sells directly to end consumer as well as to its partner stores which include well reputed websites like EBay. With their competitive wholesale prices and high quality products, wholesalesion.com is one of the best online stores for purchasing bags of all types.