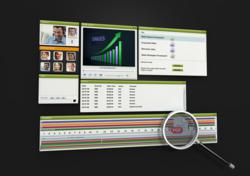 A weekly virtual conference is just a hashtag (or mouse click) away.
(PRWEB UK) 1 March 2013
A social networking innovation in the North East (as reported in nebusiness 28th February, 2013) may well become a virtual conferencing technique that reaches well beyond the green businesses it was devised for.
ConnectFriday is a regular, weekly social media event that "does what it says on the tin", to repeat a well-coined phrase: At 10.00am every Friday morning, green businesses hook up to Twitter to participate in an hour of catching up and brainstorming aimed at developing the country's low-carbon economy. Organised by Daisy Green Media & Events and ClimateNE, it's proving to be a real hit: even though it only launched in October last year, it now boasts upwards of 1,700 loyal followers and reaches around 250,000 people worldwide each week.
ConnectFriday started out as a bi-monthly face-to-face breakfast meeting between green businesses in Newcastle. But that's when the idea of virtualisation dawned: why travel from multiple points to a single destination when it's possible to meet together from your own office or living room?
ClimateNE's communications officer, Jennifer Atkinson explained: "ConnectFriday networking has been really effective. There have already been a number of notable successes including two North East firms who met through ConnectFriday, identified shared interests and goals and now are collaborating on the development of a range of LED lighting projects."
"All of this is great news for the virtual conferencing industry, adds Full Circle Motivation Director, Victor Tardieu, but sometimes more features and benefits are required. For example, we have our own proprietary video conference / webinar system called Wavecomms, which is new, low cost and controlled from your PC or laptop. All that's needed is a webcam, plus access to the internet".
He continues: "The Wavecomms video conference: can be run from anywhere anytime, with any number of participants; allows for the uploading of any asset (Microsoft Office Suite, Jpegs, Video etc.); maintains all assets in a timeline for ease of access at any time post conference. The system also maintains a video recording of the conference in the timeline; provides for any participant to interact with these assets e.g. participants can add their comments directly to anything pasted onto the white board for open discussion; allows participants to exchange notes in a chat room to any individual privately or to all participants in the conference; and finally, the system is highly cost effective – there are no set up costs and users only pay for the bandwidth they use.
"Furthermore, we have produced an application which allows organisations to conduct cross border, interactive training sessions from one central location. Any number of participants can take part and these staff members / delegates have the facility to table text based questions live in a chat room or directly to the tutor / course leader".
It seems that a weekly virtual conference is just a hashtag (or mouse click) away.