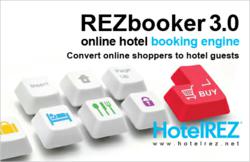 (PRWEB UK) 5 March 2013
A global team of industry professionals with a strong knowledge of the global distribution market is on hand. As part of the strong emphasis on quality and service delivered to HotelREZ members, HotelREZ has developed some improvements on the industry's most feature rich online and highly customisable hotel booking engine called REZbooker 3.0.
In this release, REZbooker now shows alternate properties when the customers' hotel choice is not available on the selected dates. This feature is particularly useful for HotelREZ's hotel group clients. Further development was put into dynamic packaging on REZbooker 3.0, which gives customers over more options to up-sell additional services and goods during the room booking process.
REZbooker 3.0 introduces custom variables for email templates such as reservation and cancellation numbers as well as the guest's first and last name.
It is also possible to hide the Cancellation Policy in REZbooker. If REZbooker customers do not wish to show any Cancellation Policy in their REZbookers and email confirmations, HotelREZ can now simply switch "Hide Cancellation Policy". This will hide the Cancellation Policy in REZbooker and confirmation emails.
REZbooker 3.0 is a fast and intuitive booking engine process that has been designed and tested for highest conversion rates. It is advantageous because of its fast, simple highly customisable and configurable design which is easily integrated with any hotel's website. Full website tracking and a reporting suite are included to allow the hotel to analyse and monitor its own performance. Extensive merchandising and promotional options linked to the main booking flow, as well as landing pages or external links, are available for the REZbooker 3.0 user.
REZbooker 3.0 is the industry's leading and most feature rich hotel booking engine on the market. In 2012, HotelREZ has helped its REZbooker customers to drive up to 5 times as much business through their own websites meaning fewer commissions per booking than on other channels.
Visit the REZbooker 3.0 website http://www.hotelrez.net/hotel-booking-engine/why-use-rezbooker/ or contact us via email info (at) hotelrez (dot) net or call us +44 (0)845 0049393 for further information.
About HotelREZ
HotelREZ is a hotel representation company that provides Distribution, Revenue, Sales and Marketing services. It was set up in 2004 to meet the distribution needs of independent hoteliers and now represents over 1,000 independent hotels and independently owned groups in more than 30 countries worldwide, offering great portfolio of luxury city centre hotels, country manors, boutique hotels and beach resorts that will meet every client's expectations. HotelREZ is the largest hotel representation company with alliances, exclusive partnerships and presence in over 80 offices worldwide.
Visit our websites http://www.hotelrez.net/ and http://www.hotelrez.co.uk/