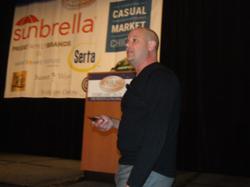 His upbeat, high-energy presentation had everyone buzzing during lunch. -Cindy Ingram and Jamie Sorcher
Metairie, LA (PRWEB) March 02, 2013
On February 20th through the 22nd, the second annual Casual Living conference hosted 160-plus of the best and brightest of the retail industry for a weekend of sharing business experiences and offering the best advice in the field.
Among the esteemed speakers was the co-founder and owner of TheGardenGates.com, Chad Harris of New Orleans, La. In his energetic presentation, he explained to the conference that the only way to reach the top is to kill the competition..."like with an axe." Harris' unconventional approach to business, which includes not putting anything on sale, keeps retailers' products special and valuable. This high competition mentality is what drives Harris and his company to constantly manage their online presence. The result: watching online traffic become actual sales.
TheGardenGates.com is a French-influenced lifestyle company with both a beautiful website and storefront in the New Orleans suburb of Old Metairie. French outdoor furniture, luxury linens and bedding and cast stone garden fountains and planters are just a few of their specialties.
For more information, please visit http://www.thegardengates.com or call 1-877-780-6699.
About The Garden Gates:
The Garden Gates was founded by Jacqueline Elizabeth Kendall-Harris and Chad Harris in 1999. Jacqueline plays an instrumental role in product development, interior design and in developing core principles in The Garden Gates lifestyle. Chad plans in important role in the creativity of the brand, marketing and technology of the business.