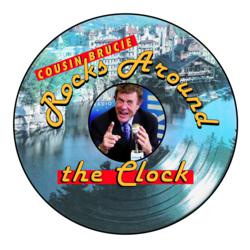 This weekend event gives guests an opportunity to recapture the passions of a much-loved era with dancing, contests, and much more
New Paltz, NY (PRWEB) March 01, 2013
Mohonk Mountain House is excited to announce a fun-filled weekend of music, dancing, and celebrity showtime: Cousin Brucie's Rock 'n' Roll Weekend. From March 22 – 24, the Hudson Valley resort will host a weekend of throwback favorites, including jitterbug dance lessons, trivia contests, and appearances by Cousin Brucie and a cast of his friends.
Cousin Brucie, a legendary New York City on-air personality, will host the proceedings, bringing his charisma to a number of events during the course of the weekend. Other special presenters at Mohonk include DJ Joe Daily (the Morning Mayor of the Hudson Valley), Beatles expert Scott Freiman, and acclaimed dance instructor Karen Goldstein. The weekend offers the opportunity to enjoy the spectacular setting of charming Hudson Valley accommodations along with some fabulous fun at a variety of music-oriented events.
Cousin Brucie's Rock 'n' Roll Weekend Activities:

The Mystery Music Game
Jitterbug Lessons
Let's Stroll
Magic Moments Dance Party
A Trip Through Strawberry Fields, with Scott Freiman
"This weekend event gives guests an opportunity to recapture the passions of a much-loved era with dancing, contests, and much more," said Nina Smiley, Director of Marketing. "Music enthusiasts, Beatles connoisseurs and anyone interested in the best of classic rock 'n' roll will find something to love at Mohonk."
Learn more about Cousin Brucie's Rock 'n' Roll Weekend, and make a reservation today.
About Mohonk Mountain House:
Founded in 1869, the Mohonk Mountain House sits amidst 40,000 acres of pristine wilderness on the banks of Mohonk Lake in New Paltz, NY. Just 90 miles north of New York City, this 259-room property is a getaway for couples and families alike, offering a wide array of activities ranging from hiking to yoga to ice-skating. With classic accommodations, an award-winning Spa – recently named the number one resort spa in the United States by Condé Nast Traveler – and stunning location, Mohonk Mountain House is the ideal destination for vacations year-round. For additional information on reservations, please call (888) 212-3057 or visit mohonk.com.