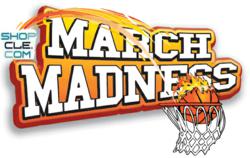 It really is March Madness at ShopCLE.com
Elmsford, New York (PRWEB) March 01, 2013
New York-based Eye Care Associates enters its 14th year as the operator of ShopCLE.com, an online e-tailer that sells designer sunglasses, designer optical frames, contact lenses, contact lens removers and other items related to eye care such as eye vitamins & supplements.
Today ShopCLE.com announced that they have officially kicked off March Madness by offering free US ground shipping on all orders placed today. ShopCLE.com March Madness offer will end on March 3rd at 11:59PM EST. With the money one saves on free shipping, they can participate in another bracket at the office or their favorite watering hole or two.
In order to receive ShopCLE.com March Madness deal, one will need to enter the following coupon code during checkout: 142994436
In conjunction with this news, ShopCLE.com has also added a new informational video to its YouTube Channel. PJ the Online Marketing Manager for ShopCLE.com said "The reason behind making these product videos is because we would always receive an inquiry about a particular product and in today's day in age the best way to display a product is via online video. We wanted to provide our visitors with a better view of our products as well as showcase a greater resource for users to turn to and what better way to do that than by providing actual videos." PJ went on to say "In our videos, users will be able to better see our products in a 360 view as well as the products being worn by our employees"
At the moment, ShopCLE YouTube Channel possesses fewer than 10 videos but they said they will be adding new videos each week. The subject matter of these videos will be based on product reviews and how to videos. The purpose of these videos is to better educate viewers so that they can make an educated purchase or even know how to find the perfect frame for their face shape. Other videos that are currently being worked on, will touch on authenticity of the different designer brands to help educate viewers the big difference from cheap knock offs versus official designer sunglasses.
According to the Department of Commerce, losses to U.S. businesses from the counterfeiting of trademarked consumer products are estimated at $250 billion a year. Most knockoffs are of luxury goods carrying a well-known trademark. They are a deliberate attempt at deceiving consumers into thinking they are buying products made by a reputable manufacturer when they are, in fact, purchasing inferior copies. The counterfeiter sets out to make money by deception, deliberately assuming the identity of an established, reputable manufacturer. As one can see, the videos that will be housed on the ShopCLE YouTube channel will go a long ways to help educate users when they are looking to purchase designer sunglasses and designer optical frames.
Shopcle.com is based out of Westchester County, NY and has offices in Manhattan and Mahwah NJ. Shopcle.com has been in business online for the last 15 years selling contact lenses, contact lens removers, designer sunglasses, designer optical frames, eye vitamins, contact solution and all things eye care related.