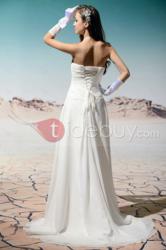 (PRWEB) March 01, 2013
Today, TideBuy.com, a reliable women's dresses online shop, has announced new low prices on its junior prom dresses collection. According to Edmond Liu, a spokesman of TideBuy.com, all the dresses are available at discounted prices, up to 85% off, before Mar. 15, 2013. One beautiful A-line floor-length one-shoulder prom dress was previously priced at $389, and now is available at $132. The discount is 70% off.
TideBuy.com is offering 294 junior prom dresses on its website, and these dresses come in various types of vintage or sexy styles. The top design team from TideBuy.com has embedded 2013's latest trends in their designs. No matter elegant black one-shoulder asymmetrical junior prom dress, or mini sweetheart junior prom dress, ladies can find their dream dresses easily to show off their best features.
"We launch such a promotion to expand our online market, and show our appreciation to our loyal customers as well. All our dresses are available with a great discount, up to 85% off. For those who want to cheap junior prom dresses, it's time to shop for yourself now," said Edmond Liu.
He stresses, "Besides prom dresses, you can also find thousands of wedding guest dresses, bridesmaid dresses, evening dresses, cocktail dresses, and, etc. on our updated website. We promise to spare no energy to provide a wide range of women's dresses for costumers as well as fast delivery."
About TideBuy.com
TideBuy.com offers one of the most extensive and stylish collections of wedding dresses and other special-occasion dresses at acceptable low prices, and its products include wedding dresses, prom dresses, cocktail dresses, and, etc. They are devoted to helping couples design their own wedding dresses without sacrificing the top-quality materials and fast delivery.
More information can be found at:
http://www.tidebuy.com/?utm_source=content&utm_medium=news&utm_campaign=index