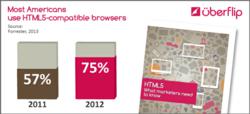 HTML5 lets marketers seamlessly distribute content across different devices, and gives readers an app-like user experience through the browser
Toronto, Canada (PRWEB) March 01, 2013
Uberflip has released a whitepaper about the rise of HTML5 as a publishing and marketing technology. The document examines how some of the biggest brands in the world are leveraging HTML5, the benefits of this markup language, and how it is expected to be used for the majority of websites and apps within the next 3 years.
"HTML5 lets marketers seamlessly distribute content across different devices, and gives readers an app-like user experience through the browser," says Neil Bhapkar, Director of Marketing at Uberflip. "In a world that's increasingly device agnostic with many different screen sizes, trends such as responsive design, cross-platform content and HTML5 will keep brands competitive. Marketers need to drive this within their organizations."
Key takeaways:
As a browser-based technology, HTML5 web apps can be built once and run on almost any device; almost 75% of browsers support this programing language.
HTML5 apps offer almost the same degree of interactivity and app-like behaviors as native apps.
HTML5 is being used by almost 50% of developers, and is projected to grow to 80% within the next 3 years.
Click here to view the free whitepaper.
About Uberflip
Uberflip makes it easy to enhance, share, and track content on tablets and other devices. Within minutes, documents are converted into page turn experiences where leveraging links, video and social media integration is just the beginning. Uberflip's page flip software helps companies save costs and make money through new marketing channels. To see Uberflip first-hand, view their monthly newsletter Going Digital.