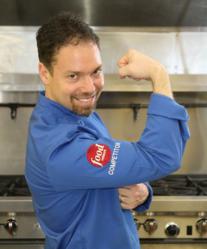 Paul will be sculpting a basketball player life-size, all 6' 8 of him, out of chocolate and cake live at the Miami Fine Chocolate and Food Show March 9th and 10th
Miami, FL (PRWEB) March 01, 2013
Paul Joachim, Food Network Challenge winner and International celebrity chef, is planning a spectacular tribute to Miami, Florida sports. Paul will be sculpting a basketball player life-size, all 6' 8 of him, out of chocolate and cake live at the Miami Fine Chocolate and Food Show March 9th and 10th. Paul, a huge Miami sports fan himself, is known for creating life-size sculptures of people live while interacting and story telling with the audience at special events and parties.
The basketball player will be sculpted jumping into the air, back arched, ready to slam dunk the basketball in cake and chocolate reaching over nine feet tall and weigh over 200 pounds. The base will be him jumping out of a basketball arena exploding through the ceiling with edible flames. This will be his 11th life-size piece and has teamed up with Davis Chocolate to create this incredible edible sculpture. Davis Chocolate has developed a special chocolate formula specific to Paul's extreme needs to sculpt outside in the Miami heat to hold up to the humidity and other outside elements.
About Paul Joachim
Paul Joachim, a trained fine-artist, has turned his passion for cooking, sculpting and sharing his stories with an audience, into incredible live entertainment at parties and special events around the world. A Food Network Challenge winner in 2011 turned International celebrity chef, Paul has sculpted cakes and engaged audiences live at art galleries, corporate events, private occasions, speaking engagements and museums world-wide. A few examples since his start in 2006 include a sculpture of Food Network star Anne Burrell at a corporate event, a John Lennon cake for the Hard Rock Hotel Orlando, speaking in front of a 200+ audience at a PechaKucha night, a life-size fashion model cake at the New York Chocolate Show and a life-size snorkeler at the International Celebrity Chefs Showdown in Aruba. He is agent represented and his work has received media attention by The Wall Street Journal, Fox News and across the world in Aruba, China and more. To learn more about Paul Joachim, please visit http://www.pauljoachim.com
About Davis Chocolate
Davis Chocolate is the only "Bean to Bar" chocolate manufacturer in Indiana. They are able to cater to both the large corporations and the at-home chef. Davis Chocolate is a small, family-owned and operated business who takes pride in producing the best chocolate, slow roasting at low temperatures to achieve the most luxurious flavor without sacrificing the health benefits that chocolate has to offer. They have products that satisfy the Organic, Raw, Kosher, Gluten Free and Vegan requirements. Since all of their production is done in-house, they are able to customize a product to fit any need from the flavor to size to ingredient percentages to packaging. To learn more about Davis Chocolate, please visit http://www.davischocolate.com
About the Miami Fine Chocolate & Food Show
Show founder Mario Pi brings over 20 years' experience in events and trade shows to the Miami Fine Chocolate & Food Show–including this year's successful National Chocolate Show and Chicago Fine Chocolate Show, the first dual concept trade and consumer show dedicated to chocolate. The show drew approximately 14,500 consumer attendees and 2,700 trade attendees to Chicago's Navy Pier from November 16-18, 2012. To learn more about The Miami Fine Chocolate & Food Show, please visit http://www.miamifinefoodshow.com.