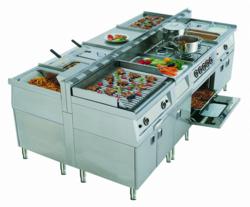 The selection and placement of equipment should ensure that food is prepared in the shortest time possible.
Singapore (PRWEB) March 04, 2013
During peak seasons such as Chinese New Year or Christmas, hotels and restaurants can expect reservations to be full. This reminds of the importance of commercial kitchen equipment that can offer efficient and safe working spaces for their employees.
Leaving customers to wait too long for service can tarnish the reputation of restaurants and eateries, especially since enjoying good food is an esteemed part of a Singaporean's lifestyle. This is why ACE Management is taking an advantage of its established foothold in Asia to help F & B businesses provide commendable service with its variety of commercial kitchen equipment.
Having served clients such as Rendezvous Hotel Singapore, Singapore Airlines and Mandarin Orchard Hotel, the company has accumulated much experience to identify the qualities of a high quality commercial kitchen.
"In order to keep pace in the kitchen, the selection and placement of equipment should ensure that food is prepared in the shortest time possible," says Mr Rashel Khan, the managing director of ACE Management Pte Ltd.
Khan believes that its partnerships with established brands around the world such as Jemi, Bertos, Ozti and Roller Grill allows businesses to be economical without comprising quality, whether one is a start-up or a 5-star establishment.
Besides possessing the sole distributorship of Jemi products in the Asia Pacific region, the company also has notable partnerships with Italian-bred Electrolux and German-established Blanco among many others across the world.
Kitchen equipment that catalyzes the food preparation process allows customers to be served quickly, empowering them to choose their own dining experiences.
"Once food is served promptly, customers can leave right after their meals, or linger around to enjoy the ambience. The experience is in their hands," claims Khan.
A safe working environment that allows chefs to work efficiently also allows more time to work on the presentation of each dish to enhance the dining experience. The turnout is a win-win: swift food preparation and pampered customers happy to return.
To find out more information on quality commercial kitchen equipment in Singapore, click here to visit its website.
About ACE Management Pte Ltd
ACE Management Pte Ltd was established in 1995 by Managing Director Rashel Khan. It currently has its headquarters in Singapore and has established a foothold in Asia with offices across the continent such as Bangladesh and Vietnam.
ACE Management Pte Ltd has won the Asia Pacific Brands Award in 2012 and was also featured in the Appetite Asia magazine in April 2012. Besides being known as a premier equipment supplier and a kitchen consultant, the company aims to expand its reach by utilizing social media such as Facebook and Youtube.
The company hopes to continue to help build service-efficient commercial kitchen restaurant in Singapore and the rest of Asia, without compromising on reliable service that it is best known for.