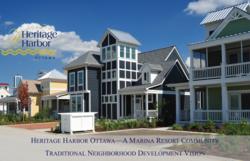 "For a lot of home and cottage owners our waterfront homes tap into a former, unmet longing for a more 'livable' community."
Ottawa, IL (PRWEB) March 02, 2013
New Urbanism, Traditional Neighborhood Development and other development concepts, such as "Pocket Neighborhoods," are guides for the development vision at Heritage Harbor Ottawa. As the Midwest resort community and full-service marina moves into another spring season of construction, development and growth, it will continue to move in this community-driven direction.
Heritage Harbor has already constructed one of the Midwest's finest full-service marinas and has established a strong brand and a reputation for delivering a world class resort lifestyle. Now, the riverside resort looks to also be a recognized example of Traditional Neighborhood Development—a comprehensive real estate planning system including a variety of housing types and land uses in one defined area.
"What we're proud of here at Heritage Harbor, and what we'll continue to strive for, is a vision of waterfront community that embraces traditional neighborhood development concepts and a 'Pocket Neighborhood' atmosphere," says Tom Heimsoth of Heritage Harbor Ottawa. "For a lot of home and cottage owners our waterfront homes tap into a former, unmet longing for a more 'livable' community.
"There's an industry shift that's been stirring over the past few years to create vacation homes and resorts where people really want to invest and spend time in—homes and communities that are cozy and neighborly. We feel we've created that with our seaside-inspired, waterfront homes. We'll continue this on all other future projects, such as our exciting new West Harbor Lofts townhome series."
A pocket neighborhood is a group or realm of a dozen or so homes together, with neighbors who interact on a daily basis around a shared garden, quiet street, park or alley — a kind of secluded neighborhood within a neighborhood.
This is in contrast to the most-common types of neighborhoods we're used to in the U.S.—vast neighborhoods of several hundred households and networks of streets. But they don't adequately offer a feeling of community and connectedness, while also creating a distinct private space. That's where the idea of pocket neighborhoods comes in.
The Heritage Harbor development vision focuses on developing a community—in Illinois' beautiful Starved Rock Country— with a broad spectrum of attractive homes, timeless architecture, walk-able neighborhoods, a world-class marina, dining, events, activities, adventure and amenities. It's the combination of all these features that create the Traditional Neighborhood feel.
Heritage Harbor is uniquely positioned to offer this distinctive resort lifestyle to residents and guests. The community is less than 90 minutes from downtown Chicago, Rockford, Bloomington, Peoria and only two hours from Champaign-Urbana.
Also, the Starved Rock Country area in the Illinois River Valley is widely recognized as a "get-a-way" location for people in Illinois and throughout the Midwest. The combination of recreational amenities, local hot spots and accessibility to urban areas make Ottawa an ideal location for a premier resort community.
Click here to see a slideshow of Heritage Harbor Ottawa, and its waterfront homes.
For more information or to take a tour of the Heritage Harbor waterfront homes and cottages, contact Tammy Barry of Heritage Harbor Ottawa at 815-433-5000.