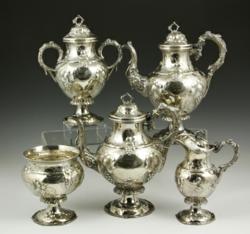 "This is one of the finest coin silver tea services that we have come across in a very long time." -Harry Morgan, Director of Appraisal Services, Kaminski Auctions
Beverly, MA (PRWEB) March 03, 2013
A rare William Ingalls Tenney tea set will be among the most important lots of Kaminski Auctions' upcoming Spring Fine Art and DéCoR sale. The beautiful coin silver repoussé tea set includes a large tea server, coffee server, sugar, creamer, and larger waste bowl, and is estimated at $6,000 to $8,000. Highly detailed repoussé and engraved grape vines and leaves decorate the body of each piece. The spouts and handles take the form of elegantly twisted vines dripping with bunches of fruit.
W. I. Tenney produced coin silver pieces, such as this tea set, from his New York City studio at 251 Broadway from 1806-1848. His pieces from this time reflect an important early period in the history of American silversmiths. Before 1858, silver was not mined in the U.S. Instead, silversmiths like Tenney relied on melted coins for material. However, with the advent of domestic silver mining, sterling silver became more accessible, and the tradition of coin silver was slowly abandoned.
This rare and important tea set will join many other excellent pieces of fine art as well as estate items and jewelry in Kaminski's Spring Fine Art and DéCoR Auction, to be held March 9th and 10th. For more information about this exceptional piece of American coin silver, or to view additional lots in the sale, visit http://www.kaminskiauctions.com/gallery/category/march-estate-auction and http://www.kaminskiauctions.com/gallery/category/march-d-cor-auction.
Kaminski Auctions, located on the North Shore of Boston, has been serving the New England antiques market for over 25 years as a full service auction house and appraisal service for fine art, antiques and estates.
With two locations in Beverly, Massachusetts, including a new state of the art auction gallery located at 117 Elliott Street, and a historic 1850's barn and office facility at 564 Cabot Street, Kaminski Auctions hosts 25 auctions a year.
In today's highly competitive market of fine art and antiques, Kaminski Auctions provides its customers with bicoastal services and marketing with west coast offices in Beverly Hills and San Diego, California.
Kaminski Auctions offers specialty departments in Asian Art and Antiques, Silver, Glass and Lamps, Couture and Vintage Clothing, Photography and Modern Design . We have highly trained and knowledgable appraisers on staff that will help you determine the true value of your antiques, or entire collections. Free Appraisal days are offered every Tuesday from 10:00am-4:30pm at our 564 Cabot Street location in Beverly, Massachusetts & our 5171 Santa Fe Street location in San Diego, California. We welcome emailed photos of your items!
Contact Harry Morgan - hmorgan(at)kaminskiauctions(dot)com