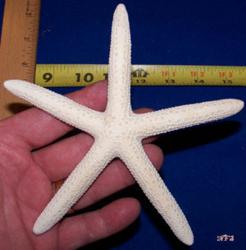 Lake City, Fla. (PRWEB) March 02, 2013
North Florida Shells has unveiled a new selection of white pencil starfish, just in time for this season's beach- and sea-themed weddings. The starfish are available in a wide range of sizes making them one of the most versatile additions to any spring or summer wedding.
The white pencil starfish is a natural feature that lends itself to a myriad of decorations, from table scatter to chair bows and even flower arrangements. Also called white finger starfish, these simple embellishments blend beautifully with any color scheme and add a textural component to décor. Because starfish are small and lightweight, many brides have incorporated them into headpieces and bouquets; using ribbon or even a hot glue gun, they can be easily attached to candles and favors, making them one of the most versatile and convenient methods of carrying a theme throughout the entire wedding and reception.
Although typically associated with beach- and sea-inspired celebrations, the starfish also has meaning far beyond its link with the sea that makes it an ideal addition to any wedding, no matter the theme. With arms reaching to embrace in all directions, the starfish is recognized as the universal symbol of love and new beginnings. It's this association that has spurred many creative planners to use the starfish for celebrations like anniversaries, birthdays and even baby showers.
White finger starfish are also good for crafts, and their clean, simple lines make them a favorite among craftspeople and artists who like to add a natural element to their creations. Ranging in size from one inch to one foot, starfish can be used to add a subtle touch of sea or to make a more dramatic statement.
About NorthFloridaShells.com
For more than a decade, NorthFloridaShells.com has been providing wedding planners with the highest-quality shells and sea items for weddings and other celebrations. The company offers the widest selection of ocean- and beach-related items and always pack every item with care to ensure safe delivery. In addition to offering items at the most competitive prices available, discounts available on bulk orders mean substantial savings for all its customers. NorthFloridaShells.com is a 3dcart ecommerce website.
For more information, visit the website at http://www.northfloridashells.com, call them at 386-758-1304 or email them at kimwagn(at)gmail(dot)com.