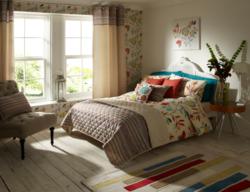 saving time and more importantly money ...
(PRWEB) March 14, 2013
Curtains & Curtains has been in the interiors industry for over 7 years and we have not seen anything like this before. The bedroom set is designed with the comfort and calming scenes while the living room sets are inspired by latest modern trends and wow-factor finishing touches.
The presentation of this range is outstanding with easy to purchase options or more complicated bespoke choices for the accomplished designers. It is this flexibility that makes this range so unique in its introduction. This new concept will completely change the way customers purchase home furnishings in the future. Not only does the consumer save precious time by purchasing the entire package in one simple decision but more importantly there is a significant price saving on the entire package when compared to purchasing each item individually from various retailers.
The entire range is split between 5 designs which fall within modern, vintage chic and traditional styles. The main colour stories are black, purple, green and multi-colour. The collection is designed to not just match your décor, but enhance the complete look. From initial customer previews, the Modern curtains range has received the most interest, followed closely by the Vintage bedding collection.
Every ready made curtain is available in made to order option as well and can be perfected to any size or finish as desired by the customer. "The curtains range is designed to be employed as a standalone product or as a room set feature, especially due to the use of neutral colours and semi-plain weave fabrics" says Manika Shah, director of Curtains & Curtains UK.
Manika continues; "A typical example would be our Modern Inspirations range which consists of 3 colours; purple, charcoal and lime green. The purple range consists of purple curtains, 200 thread count duvet cover, 3 decorative cushions, purple gradient bedspread, a tonal striped rug, contemporary 3-piece wall art and retro purple wallpaper". To purchase a bedroom set such as this would cost £800 if purchased individually, but almost 30% less if purchased as a complete room set.
To purchase the room sets please visit our website at curtainsandcurtains.com.