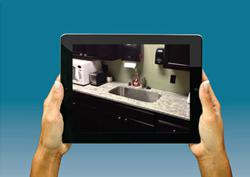 By using the AR feature, customers are introduced to a whole new system of window shopping.
Toledo, OH (PRWEB) March 02, 2013
Augmented Reality is changing the way the world uses technology. Bringing together computer-generated objects and real-life subjects, this new science provides a view of a real-world environment with elements that are augmented by computer-generated sensory input through the use of an iPad or other tablet device. Augmented Reality creates a visual illusion to the user and can be applied to a variety of subjects.
At MR Direct, the new Augmented Reality application allows customers to envision just how a product will look in their home. By using the AR feature, customers are introduced to a whole new system of window shopping. Every product that MR Direct offers will be included in this app, allowing users to view any item of their choosing in any room of their house!
The Augmented Reality application is very user-friendly and was created to be easy to understand by everyone. The AR app can be acquired through iTunes for the Apple iPad. Augmented Reality uses a variety of media such as graphics, video and touch to mimic the real world.
In order for an AR app to work, a sheet of paper containing a product's sensory target must be placed on a real surface (i.e. countertop, existing sink) with the sensor side up. With an iPad, the user will chose a product they would like to see in their home. Once the product is chosen, the user will then point the on board camera at the sensory target and see the item appear on screen, creating the illusion that the product is actually on their countertop. And, since Augmented Reality uses real-time views, different angles are visible by simply moving the device around the sensory target.
Augmented Reality has gained great popularity on smartphone and tablet applications for games, navigation, entertainment, advertising and much more. Home builder professionals are beginning to benefit from AR technology as these applications allow clients to see elements of their finished room or home at the touch of a finger, and MR Direct is very happy to be able to offer this amazing technology to their customers.
The Augmented Reality feature is not yet available to the public, but will be on display at upcoming trade shows. Availability of the application will be announced on the MR Direct website in spring 2013.